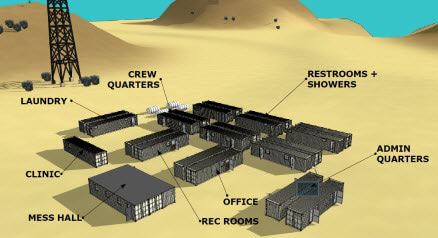 Housing is a vital consideration for workers in the oil and gas industry. Convenient oilfield housing benefits both workers and energy companies. Why? Because oilfields are often located far from nearby communities; attempting to commute can put a strain on local roads, communities, and energy workers' pockets.
Of course, optimal oil and gas housing goes beyond simply giving workers a place to stay. In order to support productivity and reduce employee turnover, workforce camps should feature portable buildings that essentially become a small village—equipped with dining, lodging, recreation, and medical areas.

Necessary Facilities

Container housing units can be the cornerstone of an oilfield work camp, allowing companies to house large numbers of workers safely, conveniently, and efficiently. Modified shipping containers also provide cost-effective solutions for supplemental camp structures, including:
First-aid Clinics - Oil fields are sometimes located hours from the nearest medical facilities, which can make it difficult for workers to get access to medical care in the case of minor illness and injury. First-aid clinics help bridge the care gap.
Dining Halls – Hard work requires sufficient fuel. And with energy crews pulling notoriously long shifts, an onsite dining hall is the only way to keep workers nourished, round the clock.
Recreation Rooms - Your work camp should also present opportunities for workers to socialize and relax. A recreation room can be tailored to fit your preferences and needs; it may include game tables, televisions, or a computer room.
Offices – Site managers need a place to complete deskwork and computer-aided reporting. Offices and IT control rooms allow you to keep up with day-to-day business, as well as maintain online communication.
Laundry Facilities
Restroom and Shower Facilities
Important Features

The work camp should be easy to set up and sensible for the climate. For example, Falcon Containers' work camp housing units:
Are easy to transport and relocate
Need only a level surface; no foundation is required
Are available in different lengths with various modification options
Are inherently wind-resistant and water-tight
Can be configured with plumbing, electricity, and HVAC
Can connect multiple containers to create large, wide interiors
If you are interested in setting up oil and gas field housing, please click here for a quote and more information.