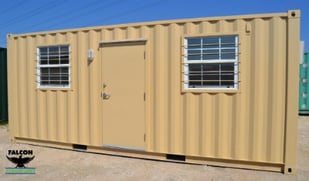 The construction industry was the first to use Conex containers for what most traditionally think of when they hear "repurposed shipping container" – onsite, secure equipment storage. However, as shipping containers became more abundant, other uses for the basic Conex box began to evolve.

These days you'll find steel shipping containers, sometimes called sea containers, on many large construction worksites. They're used by general contractors, as well as electrical, plumbing, concrete, and mechanical subcontractors. And while storage and mobile offices are still the leading use of containers on remote jobsites, their inherent flexibility, mobility and security is the ideal structure for other applications as well. When one project is complete, simply move the container to the next – contents and all.

1. Onsite Construction Equipment Storage

Constructed of heavy-duty 16-gauge steel, shipping containers are incredibly difficult to break into. Therefore they're the ideal solution for storing tools, equipment and work supplies anywhere theft may be a factor. Their contents are easily accessible when necessary, yet securely locked when not in use.

Additionally, the container can be equipped with lighting, easy-access personnel doors, secured shelving for additional organization, and more.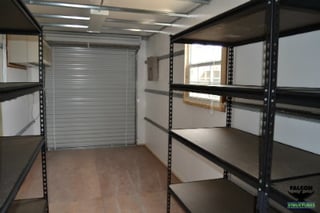 2. Onsite Materials Storage

Most worksites also require a place to store materials used during construction such as windows, doors, anything breakable, or items too sensitive to leave out in the elements. A rollup door can be installed to access large pallets of items quickly and easily without the annoyance of opening and closing the cargo doors each time. Add HVAC to any container to keep temperature-sensitive items safe from the heat or cold.


3. Mobile Construction Office

Most construction sites require some sort of climate controlled workspace. Whether it's called a construction office, conference room or simply a gathering area for workers to review plans, a workspace is essential for an efficient jobsite.

These 20-foot or 40-foot construction offices can include private entrances, a bathroom, desks and overhead lighting to create a functional work environment for any foreman, superintendent or general contractor. A popular Falcon layout is the Workplace Office which includes two private workspaces along with an open conference area between them.


4. Storage AND Workspace

When a large amount of storage or workspace isn't required, consider using one container for both. It can be split evenly in half, or distributed in favor of one area or another. The workspace is finished out like all of our Falcon offices, with climate control. The storage side includes lights, electric outlets, and functioning cargo doors. A personnel door between the office and storage area creates convenient access to both.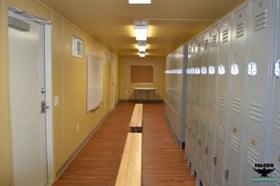 5. Climate Controlled Breakrooms

Keep productivity and morale high by providing an onsite, climate controlled breakroom for those that mean the most to your business. The container breakroom can include a small kitchenette, a bathroom and a seating area for employees to relax. Add lockers to keep employee belongings safe while out on the job.

These are just a few of the many uses for containers on the construction jobsite. The applications are only limited by your imagination.

If you would like to learn more about how shipping containers can increase efficiencies on your jobsite, we're here to help. Contact Falcon Structures at 877-704-0177 to speak with a knowledgeable sales representative today.