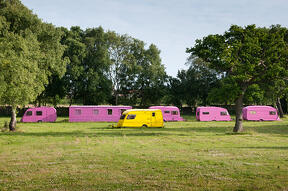 Anyone who says "variety is the spice of life" has never worked to plan or manage an oilfield housing camp. At Falcon, we think clients should focus on uniformity.
Because although it's true that some drill sites call for custom-built offices, bunkhouses, and dining/recreation facilities, it's much more cost-effective to standardize portable office and housing choices across your operations.
Still, divergent oilfield housing models do persist in today's market; they are widely varied in terms of design, layout, size, materials, cost, and other variables. Try not to let them distract you.
Here are just a few reasons why standard Living Box units and Office Box units are more efficient than one-off oilfield project solutions.
1. You can expedite local safety inspections, permits, and related workflows.
Earlier this year, conflicting definitions of a "housing unit" almost cost Stallion Oilfield Services $26 million in a North Dakota housing violations fine. The fine was eventually reduced to $26,000, but not before consuming considerable time and legal fees… And all because the company and the local housing commission were not on the same page, when it came to connected living units.
So what exactly is involved when you're setting up worker housing in North Dakota versus Wyoming versus Texas or California? Enough paperwork to make you dizzy. You can't avoid the required permitting and inspection workflows, but you can certainly expedite the process if you're dealing with standard housing units. Enter the same specs on each form, instead of toggling between data for modular units, trailers, and RVs.
2. You can simplify procurement and asset management.
Whether you're doing the job yourself or working with dedicated project management/procurement partners, oilfield housing should be consistent—inside and out. Consistency makes it easier to source and replace things like bunk beds, mattresses, appliances, etc. When purchasing big items –like back-up generators and furniture packages, standard container housing units help to equip your camps and reallocate supplies. Even those small, but essential accessories—like window blinds and linens—are easier to recycle when camps are built to align.
3. You can quickly deploy units that meet expectations and requirements.
Your team shouldn't have to research and vet new worker housing models every time your operations shift. After all, your drill site could be active for eight years or eight months. It's important to know you can count on your housing to weather a decade's worth of North Dakota winters, or pick up and get the job done in Eagle Ford next summer.
Wherever they're deployed, you also want to ensure you're providing safe, comfortable environments for your site crews. Recruitment and retention of oilfield workers gets a lot easier when you develop a reputation for having quality accommodations.
As oilfield housing units, shipping containers are uniquely durable, long-lived assets. Learn more about how these uniform solutions consistently hold up against severe climates.