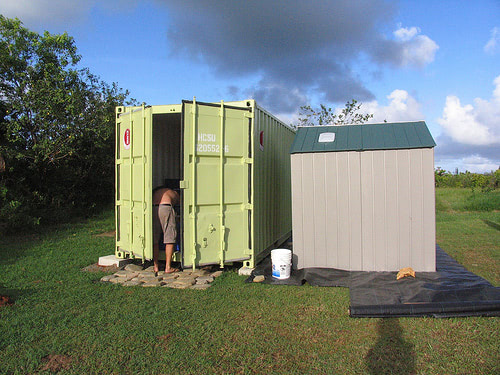 1. Storage Shed

Why go through the hassle of assembling a newly manufactured set of parts when you can have a sustainable, prefabricated container shipped right to your backyard? And when you're ready to move or you don't need it anymore, it gets picked up in one piece and in a single afternoon—not too many traditional sheds can boast the same.
2. Trailer Home
In America trailer homes carry a bad reputation for being unsightly and low-class, but for many people they are one of few affordable living options (especially given the current economy). What if inexpensive, transportable living got flipped on its head and was suddenly an Industrial-Modern symbol of a low-impact lifestyle? Shipping container homes could do just that.
3. Office Building
Take it from us—working in a building constructed out of layered shipping containers is remarkably practical, comfortable, and even fun. The containers work like giant building blocks and can be used to create spaces as open or private as you'd like, with interior finish styles ranging in anything from sleek, raw and industrial to polished and traditionally refined. The best part? When it comes time to move or expand, things like demolition, transportation and additions are a snap!
4. Pedestrian Bridge
Maybe you need to span a small creek, or create a catwalk for a playground structure, or build a nature-and-night-sky-observation deck next to your cabin in the woods. Flat-pack shipping containers are ideal for use in these projects and so many more, as their 20- and 40-foot spans are structurally sound, arrive in one piece, and often require only solid anchoring and safety railings.
5. Hotel
No one likes the dull, uninspired aesthetics of inexpensive hotel lodgings, but often when traveling on a budget there exists the need for a simple place to lay one's head, no matter how musty or cramped the space may be. Imagine instead that the sprawling Super 8's and Motel 6's of the world were replaced by colorful stacks of shipping containers, each containing a compact, bright space with equal the amenties and quadruple the charm of a traditional cheap hotel room. Even the remotest of areas could take part—just transport and assemble.
6. Storefront
In the retail world, advertisers know that the most tried-and-true way to sell a product is to simply put it where everybody can see it. If your business is buried in a mall or away from a busy thoroughfare, you will likely spend much more time and money on advertising your presence than a more prominently-displayed storefront does. Why not take advantage of the mobility and aesthetic flexibility of shipping containers to sell your products in plain view? The "cool factor" alone is enough to draw anyone in!
7. #1 Value Meal at McDonald's
Better for the environment, better for your health (whip up some healthy food in your mobile container kitchen!), better quality for your money—value is value, no matter on what scale, and shipping containers have it in droves. If you would like to learn more about the abundant possibilities or if you have any questions for us, please don't hesitate to call us toll-free at 877-704-0177 or email us at info@falconcontainers.com.