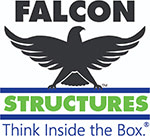 We are growing! The opening of our new Norfolk location and continued growth in our military segment has put Falcon in a great place. We are hiring! We have opportunity in many areas of our company and if you are interested in becoming a member of our Falcon Container family- we may have a great opportunity for you.
We founded Falcon Containers in 2003 and we have grown our company with - our people. Our growth and commitment to our mission is based on great delivery of service to our clients-delivered by our Falcon employees.
You may be or know of a colleague who could be a great fit. If you or your colleague have a positive attitude and resonate with our core values - Falcon may be a great fit.
Our Core Values Focus on the following:
Serve others before you serve yourself
Move with a strong sense of urgency
Take individual responsibility
Motivate yourself
Follow the 4 Test Rule, always.

Is it the truth?
Is it fair to all concerned?
Will it build good will and better friendships?
Will it be beneficial to all concerned?
Each position at Falcon Containers has a set of key responsibilities. These responsibilities can change as our company grows and adapts to changes in our marketplace. If you are not afraid of change and embrace a challenge- contact us today at Jobs@FalconContainers.com.