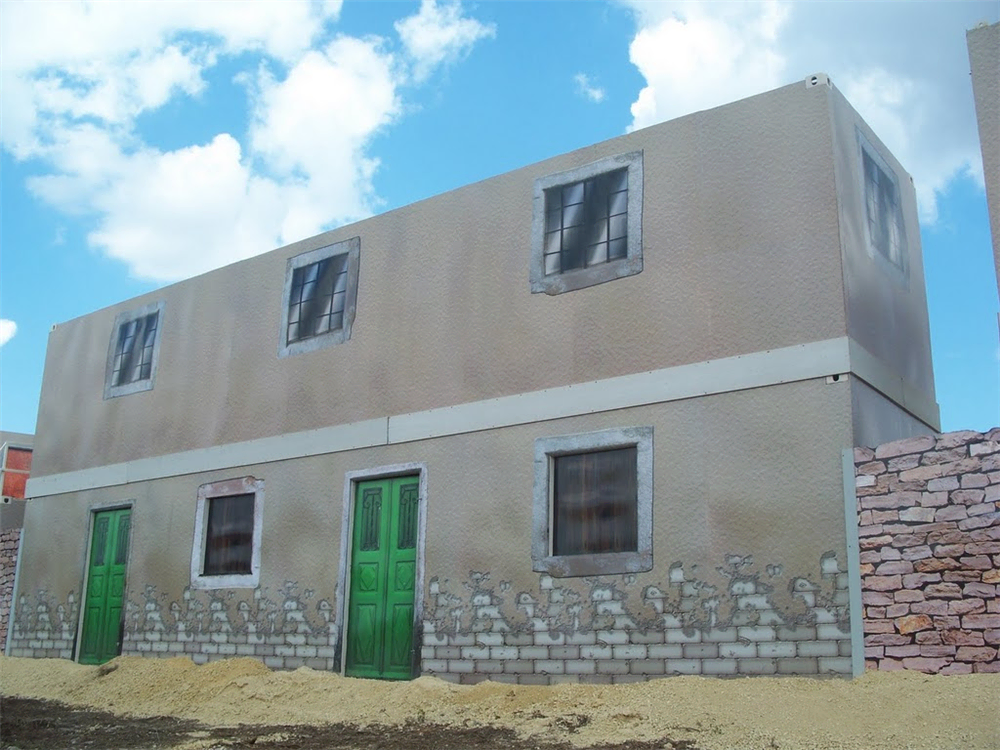 The most effective military training uses environments that look and feel true to what will exist in real-life military situations. Creating these training settings can be a bit tricky, since training often takes place thousands of miles away from active duty. In addition, military training must remain affordable as well as functional. Modified shipping containers meet all of these requirements, and for that reason the United States military has used Falcon Containers to create realistic military training sites.
Modified shipping containers can be an essential part of military training, allowing for the creation of remote camps as well as the creation of realistic training environments. One factor which can make the training more realistic is the use of facades—elaborate cityscapes painted onto shipping containers, which mimic the structures found in international cities or rural villages.
Facade Options
Shipping containers can be used to create mock villages for use in training exercises. Stacked and joined containers add to the realistic feel, but it is the use of custom design work that really promotes authenticity. Falcon has experience making containerized training areas look like village or city streets, which soldiers could actually encounter while deployed. Popular facade options include:
Mosque domes
Distressed brick patterns
Stucco walls
Simulated rock walls
In addition, the facades can change from building to building, providing realistically different patterns of windows and doors. Together, these features can transform a military training location in the U.S. into a foreign street.
While the above represents common examples of facade options, the fact is that the facades are completely customizable, meaning that they can be redesigned for the military's changing needs. Shipping containers are extremely versatile. Today's training container may become tomorrow's storage unit or administrative building.
Functionality
Of course, the most realistic-looking environment is useless if it doesn't also provide a realistic infrastructure. Military shipping containers don't just create a realistic look for military training; they are also highly functional as structures. Trainees can perform true-to-life exercises in and around military shipping containers, thanks to features like:
Doors and windows that can be breached
Walls inside the containers
Stairways, both inside and outside
Ladders
All of these features help to create an environment that is conducive to training, allowing for the execution of complex military drills such as IED training.
Questions? Just reach out to us at 877-704-0177.