Most people don't notice the unassuming grey boxes attached to our buildings, but, once you know what to look for, NEMA electrical enclosures hide in plain sight all around us. If you go for a quick look around your office or home, you'll probably find one protecting your circuit breakers. Electrical enclosures aren't glamorous, but they play a key role in protecting equipment and, most importantly, people.
The electrical enclosures inside a typical home are just the beginning when it comes to protecting electrical equipment. Work sites often require specialized protection. For example, if a construction team needs to protect outdoor electrical equipment, they need an enclosure that keeps out cement dust and inclement weather. Meanwhile, a brewery which regularly hoses down its workspace will need an enclosure that's water tight.
NEMA's electrical standards provide an industry shorthand for an enclosure's capabilities. Unfortunately, parsing through the specs for each enclosure type can be difficult reading for people without an engineering background. To assist those project managers and product procurement specialists who are scratching their heads over the difference between a Type 5 and a Type 12 enclosure, we've answered a few common questions with the help of our expert electricians.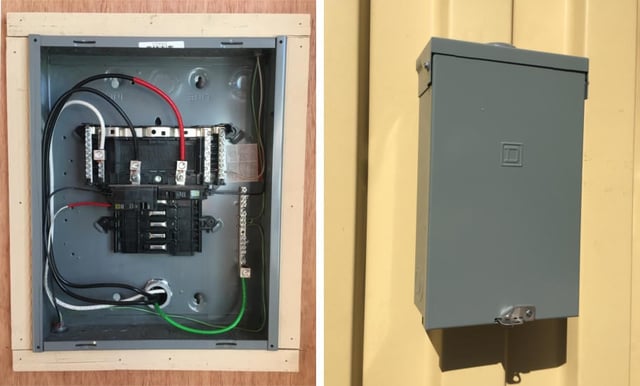 You can find a Type1 enclosure (left) in most homes and offices. We installed this weather resistant Type 3R enclosure(right) on the outside of a shipping container office.
What is NEMA?
The National Electrical Manufacturers Association (NEMA) describes itself as, "the association of electrical equipment and medical imaging manufacturers." Their expertise ranges from the manufacture of MRI machines to lighting systems.
What is a hazardous location?
Hazardous locations tend to pose high risks of explosions or fires; think mines and oil drilling sites, or factories with circulating, flammable dust. Enclosure Types 7, 8, 9, 10, and 11 are built for hazardous locations.
What does each enclosure type protect against?
We have summarized the different enclosure types in the following charts. Because enclosures built for hazardous locations have specialized standards beyond the scope of our usual work, we've focused on the more common enclosures built for non-hazardous locations.
Where can I learn more about the protections listed in the chart?
For more details on the charts above, check out our guide, "NEMA Standards in Plain English."
Can these enclosures have openings for ventilation?
Enclosure types 1, 2, 3R, 3RX may have openings for drainage and ventilation if the enclosure can still offer the protections described in the standard. For example, an enclosure with thoughtfully placed ventilation slats could still protect equipment from falling dirt and occasional splashing. Since 2, 3R, 3RX may be exposed to splashing water, NEMA requires drainage openings to accompany ventilation openings.
Can one enclosure meet multiple standards?
Yes. For example, a Type 4 enclosure is splash resistant and dust-tight, while a Type 2 enclosure is only splash resistant. Since the Type 4 enclosure meets Type 2 requirements (splash-resistance) and more, it can be used as a Type 2 enclosure. However, because enclosures with additional protective features generally cost more, most businesses use an enclosure that meets the needs of the situation and nothing more.
Tracking down the right parts for my project is a hassle. What are my options?
Often, finding a NEMA rated electrical enclosure is just one part of a larger, more complicated equipment installation project. If this is the case, investing in an equipment shelter that is pre-fitted with the necessary wiring and enclosures may be time and cost-effective for project managers.
A current Falcon Structures client mentioned that before containerizing, their project manager had to issue 60 purchase orders to create the custom equipment protection they needed. A custom-designed shipping container equipment shelter—all NEMA electrical enclosures, wiring, and utility ports included—required only one purchase order.
Looking for a faster solution for industrial equipment protection? Give us a call at 877-704-0177 or email us.