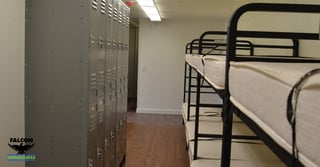 Most oilfield sites are surrounded by rural areas, therefore they lack the infrastructure to comfortably accommodate work crews and operational executives. Temporary oilfield housing, offices, secure storage spaces, and equipment rooms are critical in these types of field environments - where permanent structures aren't feasible or economical.
Conex shipping containers are not only a smart choice for these rigorous environments, but also an economical one. Here are 5 ways the oil and gas industry can benefit from using portable shipping containers for almost any functional space.
1. Easy & Quick to Deploy
Container structures are pre-fabricated off site and prepared for simple set-up in the field, including easy connection to electricity and plumbing. No site preparation is necessary other than a level surface. Falcon can produce most shipping container structures in under 30 days. Once complete, it's delivered directly to your site for quick installation.
2. Secure
Constructed of heavy-duty, 16-gauge steel, shipping containers are incredibly difficult to break into. There is no other functional space in the market that is as secure as a shipping container. With options for added security such as keypad entry or motion-sensor lighting, containers allow you to protect your most valuable equipment and technology.
3. Easily Relocatable
Shipping containers are easily relocated via ship, train, truck, or airplane. Container manufacturers also included logistics handling points in the container design, so these sturdy structures are easy to lift, move, and stack
4. Durable
Not only structurally secure, containers are highly resistant to wind, water and pests. Shipping containers are designed to withstand open ocean conditions, and are reinforced prior to modification. Additionally, modified containers are built to last – have a lifespan considerably longer than any other modular structure, and require far less maintenance. Unlike trailers, containers are a solution for temporary oilfield housing that you can relocate for decades.
5. Customizable
Shipping containers are highly customizable for many standard – and non-standard – applications. While Falcon provides a line of common container products, containers can also be joined and/or stacked for a wide range of square footage needs. Falcon's modified containers are compatible with basic amenities like running water, insulation, electricity, and HVAC—all of which are very important in oilfields, where extreme temperatures are common.
Shipping containers are highly compatible with the dynamic nature of the oil industry. While they're commonly used for storage, offices or workforce housing, other unique applications include breakrooms, recreational facilities, bathrooms, laundry rooms and much more. Once an oilfield is vacated, it's easy to relocate and reuse these portable buildings at a new site.

If you would like to learn more about how shipping containers can increase efficiencies in your industry, we're here to help. Contact Falcon Structures at 877-704-0177 to speak with a knowledgeable sales representative today.