Falcon Utility Box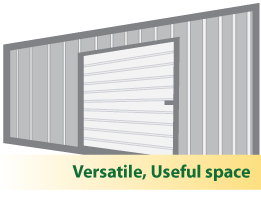 The Falcon Utility Box is a Conex container available in 20' and 40' sizes constructed with 16 gauge vertically corrugated steel. These repurposed shipping containers combine structural integrity and design to create versatile, useful space for many industries and applications.
Falcon Utility Box has the following selection of options:
Personnel Doors - creating easy accessible ground level entry
Roll-Up Doors - allowing for mobility and access to the content
Secure Windows & Vents - allowing for ventilation and natural light
Wiring, Electrical and Lighting – allowing for interior functionality
Why Use a Shipping Container as Your Solution?
Simplifies Operations
Very Transportable
Versatile
No Foundation is Required
Long Life
Highly Secure
Stackable & Joinable
Your needs may require additional modifications. See our complete line of Container Modification Products for products with additional features. Browse our Shipping Container Modifications for a complete suite of additional conversions.
Falcon Structures can solve your business needs in a short turn around time with fabrication and delivery of your Falcon Utility Box. Purchase is available in the Central Texas community as well as direct sales across the US.
The Falcon Utility Box comes in two sizes: 40' (L) x 8.5' (H) x 8' (W) or 20' (L) x 8.5' (H) x 8' (W).