On-Demand Webinar: Fast Answers to Frequently Asked Questions
What can containers do for your business? Decide if containers are right for you with our short webinar, "Fast Answers to Frequently Asked Questions." Conscientious buyers will quickly get up to speed as host and Falcon Structures CEO, Stephen Shang answers the most common and crucial questions about container structures. Hours of research will be condensed into 30 minutes, so you can get the information you need and return to work.
You'll learn about:
Expected returns on investment for container structures.
Container transport and site preparation.
Best practices for safety and permitting container structures.
A comparison of container structures and brick and mortar structures.
Guidelines for dramatic structural modifications.
About The Presenter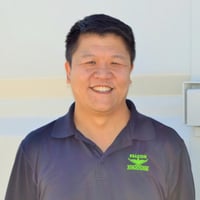 Stephen Shang is the CEO and co-founder of Falcon Structures, a leading manufacturer of repurposed steel shipping containers. Shang has grown Falcon from a small shipping container rental business to a manufacturing facility that produces containerized solutions for work space, living space, storage, equipment enclosures, and more. As co-chair of the Modular Building Institute's Container Task Force, he leads the charge to integrate containers into the coding landscape and create a faster, safer, and more innovative future for building.