Free Download: 83 Ways To Use Shipping Containers
This may actually be the best thing since sliced bread.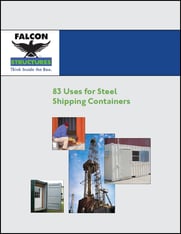 Conex box. Freight container. ISO "hi-cube." Sea can…
Shipping containers have nearly as many names as they do applications. And while you might only be concerned with one—the one that can support your business—we think there's something to be said for a product that delights clients from Hollywood to Eagle Ford.
Enter your contact information, and check out the full list.
You can also shoot us an email for more specific answers, advice, or a project quote. Who knows? We could be on the verge of use #84…