83 Uses for Modified Shipping Containers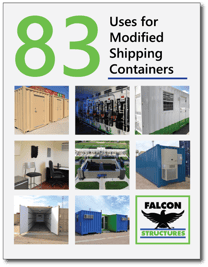 What do the energy industry, municipalities, construction, disaster relief, and agriculture have in common? They've all found innovative ways to use modified shipping containers to make their operations more efficient and cost-effective. If you're wondering whether your organization could use a shipping container, take a tour through our guide "83 Uses for Modified Shipping Containers" to get inspired.
You'll quickly realize that whenever someone needs a sturdy yet mobile structure, modified shipping containers just make sense. Organizations that invest in modified shipping containers are confident that staff and high-value equipment will be safe and secure.
We think uses 23, 41, and 73 are particularly creative!
To download your guide, please fill out the short form.
If you have questions regarding how Falcon's shipping container solutions, give us a call at 877-704-0177 or contact us online. We're here to help!