Presentation Slides: Safe Use of Modified Shipping Containers
The coding landscape for shipping containers has evolved significantly with AC462 and coming additions to chapter 31 in the 2021 version of the International Building Code. Falcon Structures' CEO, Stephen Shang, explains the significance of these milestones and what building officials need to know in his presentation, "Safe Use of Modified Shipping Containers." After Shang presented at the Building Officials Association of Texas 2018 Conference, we made the slides available for download by popular demand.
About The Presenter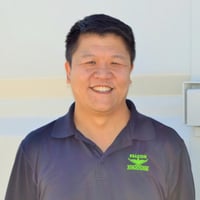 Stephen Shang is the CEO and co-founder of Falcon Structures, a leading manufacturer of repurposed steel shipping containers. Falcon has manufactured everything from single unit storage containers to the modules that were stacked into a stadium called Fortress Obetz, the largest shipping container structure in the United States to date. As co-chair of the Modular Building Institute's Container Task Force, Shang led the charge to integrate containers into the coding landscape and create a faster, safer, and more innovative future for building.