10 Step Shipping Container Maintenance Guide
Durable, modified shipping containers boast an impressive 25-year life span when properly maintained. In this handy guide, we offer 10 simple steps to help keep your container in tip-top shape.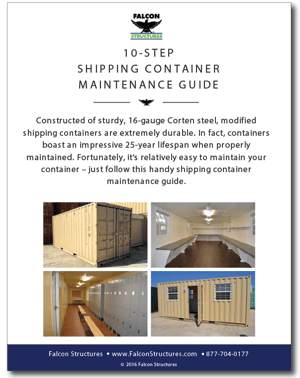 Highlights of the shipping container maintenance guide include:
Why it's important to purchase a shipping container from a reputable source.
Why roof maintenance is the key to your Connex container's longevity.
When and why to call a professional for maintenance and/or repair.
When and why you should inspect your container for damage, dents, scratches, and rust.
Download your FREE maintenance guide and contact us with questions
To download your guide, please fill out the handy form. If you have any questions about container maintenance today or in the future, please contact us at 877-704-0177 or via email at sales@falconstructures.com. We're here to help!