Shipping Container Living
Falcon Living Box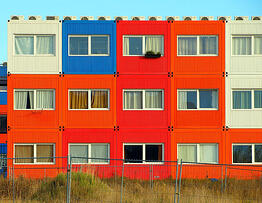 Typical uses - Crew Living Quarters, Forward Operating Bases, Work Camps for Oil & Gas Drilling Sites , Offshore Living Quarters, Military Housing, Containerized Housing Units, Disaster Relief Housing
Available for purchase only in the United States.
Our industrial living spaces are built into heavy duty ISO shipping containers. These efficient living spaces are constructed with heavy duty materials and create a secure environment while on-site. The shipping container efficient living space is easily transportable and rapidly deployable. Furthermore, the buildings may be stacked to conserve space.
Standard features for all Falcon Living Boxes include:
Plumbing for shower, sink and toilet
Air conditioning and heating
Electrical system and lighting
Wiring for telephone and Internet connections
Insulated walls and ceiling
Commercial Shipping Container Living >>

We have container houses designed for commercial use. From portable housing for border patrol agents to setting up a work camp on a drilling site to offshore housing on ships & rigs to containerized housing units for soldiers, Falcon has a solution that is rapidly deployable, easy to setup, and solid as the container that it's built in. Both 40' & 20' floorplans available.