Shipping Container Modifications
You have specific needs. We offer options to modify the boxes to fit your needs.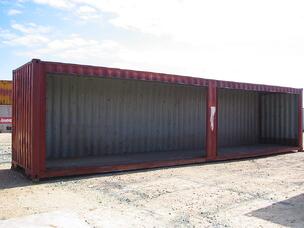 The uses for our shipping containers are as diverse as the people who need them. Even though all our boxes come with the same durable and highly secure features, they also come with a wide range of options for shipping container modifications. Based on our experience, here are the six steps that make it happen.

Of course, for some of the simpler Basic modifications - such as installing a rollup door in the side of a container - the process can be expedited. But it's still important to specify where the rollup door will go, what type of rollup door is it, what type of box is it going into, etc.

Six steps to getting your modified container
Step 1 - Determine the Base Box Model
Falcon offers four base models. Using one of these as the base box simplifies the process and prevents "re-inventing the wheel" every-time.
Step 2 - Pick out any of our Basic Modification Options that may fit your needs
We offer basic modification options that may suit your needs. These options include cutting & framing openings, basic electrical work, additional windows and doors, and painting. Click here for a more detailed list of Basic Modifications >>
Step 3 - Pick out any of our Advanced Modification Options that may fit your needs
We also offer some advanced modification options that may meet your needs. These options include upgraded interior finish outs, upgraded flooring options, advanced electrical options, larger HVAC units, and non-standard container sizes. Click here for a more detailed list of Advanced Modifications >>
Step 4 - Develop a sketch or rendering of your Modified Container
If you have in house CAD / graphic design resources, we highly recommend utilizing these resources for more extensive modifications. Containers are simple to model compared to other more complicated structures.
This model will ensure that everyone is on the same page.
If you don't have CAD / design resources, we recommend eLance or oDesk. Falcon has designers that may be available on an hourly service charge.
Step 5 - Develop a Statement of Work
To make sure that all of your bids are submitted on an apples to apples basis, we recommend that you develop a Statement of Work that goes through the details of what needs to be done.
We can assist in the S.O.W. process and provide templates of our base models, basic & advanced modifications.
Step 6 - Get Quotes
Once the Diagram and Statement of Work are complete, then get the quotes and get going on the container.
Step 4 & Step 5 are critical to make sure that the quote you get is for what you need and that nothing gets lost in the translation from your vision to the building of the modified container.