Repurposed Shipping Containers for Workforce Housing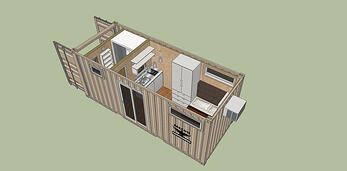 Crew quarters. Bunkhouses. Workforce accommodations. Man camps. There are almost as many names for workforce housing as there are quality levels. And while it doesn't really matter what you call your onsite living space, it definitely matters where you source it.
At Falcon, we combine the best of all these workforce housing options into today's most versatile and cost-efficient jobsite solution. Shipping container houses provide the ease and portability of a basic sleeping trailer. But with heavy-duty container shells, designed to withstand open-ocean travel, they offer far more security and durability—even in your toughest work conditions. Plus, our industrial container homes can be modified to fit all your jobsite living requirements.
Learn more industrial container homes for your temporary workforce:
Need more information about jobsite housing solutions? Get the shipping container home guide.