August 2012
Falcon Containers Develops Innovative Turn-Key Work Camp Village
Released on August 16, 2012- Austin, Texas:
Falcon Containers, a provider of repurposed shipping containers for a variety of uses, including work camps, announces the launch of an innovative mobile village design. In response to the need for a work force housing solution for oil companies in the Eagle Ford Shale, Texas area, Falcon Containers has developed a turnkey oil field work camp village design with varying options of layout and building function.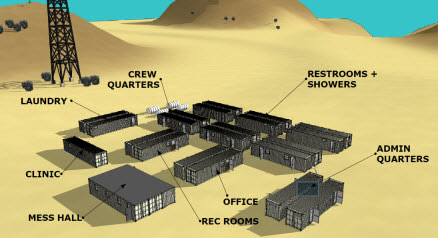 Remote Living Work Camp - Sample Configuration
The use of temporary mobile work camps is crucial in supporting the growing workforce in the Eagle Ford Shale drilling sites. The Eagle Ford Shale discovery is quickly becoming an important part of the revitalization of the Texas economy. The area is best known for its shale gas formations and for producing variable amounts of dry gas, wet gas, natural gas liquids (NGL), condensate and oil. An abundance of job opportunities have been created due to the need for hydraulic fracturing or "fracking," a drilling process used to stimulate wells and recover gas from sources such as coal beds and shale gas formations underground.

"We wanted to design and provide a housing solution that would be cost effective, easy to set up and easy to move," said Stephen Shang, CEO, Falcon Containers. "The use of repurposed shipping containers in our mobile village design allows for the inclusion of unique structures for different purposes, each of which supports a comfortable living environment for these oil field work camp employees."

Temporary work camps have been created in growing numbers to support the overwhelmingly male workforce flooding into the oil drilling Texas region. A cross between a college dormitory and a military barracks, these structures include sleeper units housing multiple bunks, dining facilities, a separate laundry and shower unit as well as a multi–purpose office, recreation or first aid facility.

"Delivery is easy and mobility is enhanced when using an ISO shipping container for these work camps," said Mr. Shang. "They can be dropped on a concrete slab or gravel yard. With water, sewer and electrical hook up they are ready for immediate use.
Eagle Ford Shale - A History Lesson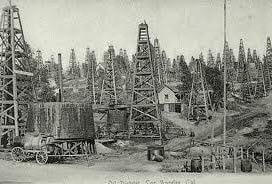 On January 10, 1901, Texas saw it's first gusher. The Spindletop Oilfield in Beaumont, Texas was discovered and the history of the U.S. Oil Boom began. Now some 100 years later, a sedimentary rock formation from the Late Crustaceous age underlying much of the South and East area of Texas, known as the Eagle Ford Formation (also called the Eagle Ford Shale), is assisting in the disappearance of previous double-digit unemployment numbers for the Lone Star state.
The area of oil and gas is over forty miles wide and four hundred miles long, spanning an area from near Mexico to East Texas.1 The area or play, known as the areas in which hydrocarbon accumulation or prospects of a given type occur, is an average of 250 feet thick at a depth of 4,000 and 12,000 feet. This high amount of carbonate makes it brittle and easier to use hydraulic fracturing to produce the oil and gas. Hydraulic fracturing or "fracking" is a technique used to release petroleum, natural gas or other substances for extraction.

It was this specific type of hydraulic drilling that took the Eagle Ford Shale from an economically unviable area to the most actively drilled targets for oil and gas in the United States in 2010.2 It was presented at the Developing Unconventional Gas (DUG) convention in San Antonio in 2012 that the reserves contained in the Eagle Ford Shale could be as much as 25 million barrels and the amount of natural gas at 150 trillion cubic feet. This production level nearly matches the output of OPEC member Ecuador.

Geologists have known this area, Eagle Ford Shale, since the 1970's as an area containing high volumes of oil and gas. Original traditional drilling methods were pursued resulting in unproductive levels due to low permeability of the area. With a combination of horizontal drilling and mud motors, a 90-degree angle can be reached allowing for the Eagle Ford shale to be eaten away. Thus thousands of feet of lateral drilling are accomplished. Large amounts of high-pressure water are used in the hydraulic fracking process to release the valuable substances. Over the past two years some 30 major companies have moved into the area resulting in an abundance of oil and gas extraction from the area.

The New Boom- What is ahead for Texas?
The resulting effect on the Texas economy, employment opportunities and the influx of gas royalties to existing large ranch owners could result with the potential of making the Eagle Ford Oil boom the single most significant economic development in the state of Texas' history. The influx of jobs related to the drilling has resulted in the growth of small towns in this area having an overriding effect to the entire economy supporting the influx of both temporary and permanent oil field workers to this area.

What began in 1901 as a single gusher resulting in entrepreneurs and wildcatters (an individual drilling exploratory wildcat wells) is now an area where engineers and business analysts are leading the charge to develop reserves in the cattle lands of Eagle Ford. A once desolate area filled with small rural towns and cattle ranchers is now a growing area of research, drilling, employment and complete economic viability.

1Eagle Ford Shale Blog, "What is Eagle Ford?"
2 OilShaleGas.com, Eagle Ford Shale-South Texas