In less then two weeks, summer will be upon us. For residents of the south and southwest you are already well into temperatures in the 90's consistently and humidity levels leaving you searching for a cool breeze. While there are many steps individuals can take to cool themselves, how do we protect items that we own or we rely on for our businesses? What environment is best to keep these things safe and at the correct temperature for optimal storage or function?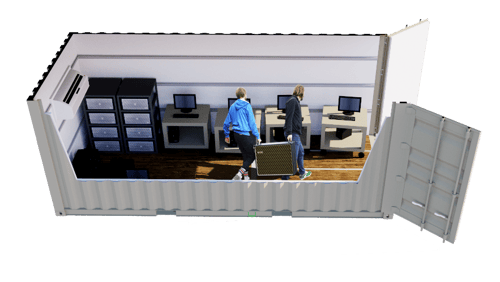 A climate controlled storage box is the answer.
Climate controlled storage is an environment or space that can monitor and adjust the temperature to ensure that items like furniture, machinery, electronics, artwork, clothing, precious metals, wood or food and beverage staples do not become damaged as a result of extreme temperatures. Maintaining a consistent room temperature will offset the development of mold and mildew as well as protect from warping or of rust conditions in metal objects.
Do you need climate controlled storage? Consider these points to help determine your needs.
1) What items do you plan to store?
Items needing consistent temperatures with low humidity and airflow may benefit from a cool, temperature controlled environment. Items such as:
Home Goods
Leather for Furniture
Paintings and Fine Art
Food stuffs
Media (i.e. CDs, Cassettes, Film)
Seasonal Inventory
Construction Supplies
Tools and Machinery
2) Consider your geographic area.
If your area experiences extreme hot temperatures, climate control may provide the best benefit.
Temperatures that exceed 90 degrees consistently may warrant the need for an air-conditioned and temperature monitored storage space.
3) Does the space you are considering offer insulation, airtight space, temperature controlling device and cooling unit?
Insulation is a key component in maintaining the desired temperature.
Spaces outfitted with R3 insulation offer energy protection to outdoor spaces.
Cooling units with combined thermostats allow the storage space to stay at room temperature.
As the summer heats up and your expansion, move or storage needs increase, a temperature-controlled space may help you and your items survive this summer's heat.