Conex Shipping Container Dimensions
Common Shipping Container Specs
Shipping containers come in a variety of sizes. The specifications for the most popular container sizes are as follows:
Specs and Dimensions for Common Shipping Container Sizes

| | 10-foot | 20-foot | 20-foot High Cube | 40-foot | 40-foot High Cube |
| --- | --- | --- | --- | --- | --- |
| Exterior Dimensions (LxWxH) | 10' x 8' x 8'6" | 20' x 8' x 8'6" | 20' x 8' x 9'6" | 40' x 8' x 8'6" | 40' x 8' x 9'6" |
| Interior Dimensions (LxWxH) | 9'3" x 7'8" x 7'10" | 19'3" x 7'8" x 7'10" | 19'3" x 7'8" x 8'10" | 39'5"x 7'8"x 7'10" | 39'5" x 7'8" x 8'10" |
| Door Opening (WxH) | 7'8" x 7'5" | 7'8" x 7'5" | 7'8" x 8'5.5" | 7'8" x 7'5" | 7'8" x 8'5.5" |
| Square Footage | 75 square-feet | 150 square-feet | 150 square-feet | 300 square-feet | 300 square-feet |
| Typical Weight (Empty) | 2,850 lbs | 5,050 lbs | 5,181 lbs | 8,000 lbs | 8,775 lbs |
*All dimensions and weights are approximate as containers vary from manufacturer to manufacturer.
What You Can Expect from Falcon Structures' Modified Shipping Containers
We know that you need a structure that is secure, durable, portable, and customizable, which is why we build our wide range of standard portable storage, office, and housing structures using standard 20- or 40- foot Conex (ISO) shipping containers. Here you'll find information on our shipping container sizes, dimensions, capacities, and construction information.
Conex Shipping Container Materials and Construction

Portable ISO shipping containers require no foundations or structural assembly. Modified shipping containers are durable, weather-resistant, and secure because they are built with:
16 gauge vertically corrugated corten steel.
Double, asymmetrical steel doors with ground-level entry.
Heavy-duty, marine-grade wood flooring.
Die-stamped steel roof.
Used and One-Trip Containers
While 20-foot and 40-foot shipping containers are the norm, the age and condition of shipping containers vary greatly. At Falcon Structures, most of the containers we modify and sell fall into the "One Trip" or "new" category. One Trip containers have literally made only one trip from China to the U.S. and are the best option for living and working spaces.
Falcon Structures also offers used shipping containers – those that have made several trips by land or sea – but we only recommend this option for limited applications. Since we always choose containers with modification in mind, we only offer certified, wind and watertight containers.
Modified Shipping Containers Create Reliable Structures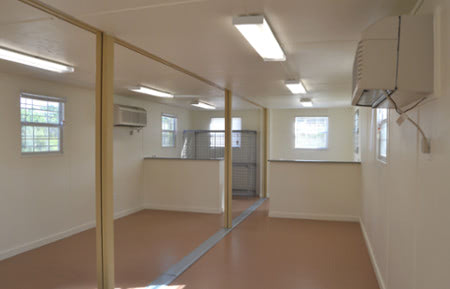 While the concept of creating durable, standardized shipping containers originated in the United States, most shipping containers (also known as Conex or Connex containers, ISO containers, one trip containers, sea containers, ocean containers, ISBU containers, intermodal containers, etc.) are manufactured in China or Europe.
Shipping Container Testing and Standards
To get to the U.S., shipping containers travel by sea and must meet strict ISO manufacturing standards set forth by the International Maritime Organization (IMO). These standards ensure any cargo stored inside is protected from harsh elements experienced at sea, including wind, rain, snow, ice, and heat.
Once modified, containers provide a safe and sturdy environment suitable for storage, industrial enclosures, living quarters, office space, military solutions, and more.
For some fascinating facts about shipping containers, be sure to read our infographic. Don't let the boxy shape fool you! Shipping containers lead complex lives traveling the globe. Our infographic illustrates the versatility of ISO shipping containers, popular uses and modifications for containers, as well as the nuts and bolts of key container features.
Ready to Take the Next Step? It's easy!