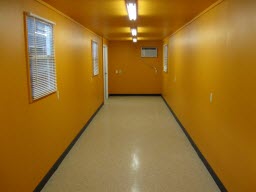 Work sites for the military, oil and gas, and mining industries are often complicated by their remote locales. In the field, professionals need mobile server rooms and/or secure facilities to store equipment, technology, and office space—all with a limited amount of space and on a limited budget. A self-contained portable field office and storage facility allows you to satisfy your office and storage needs, anywhere your work takes you.
Our shipping containers are ideal for self-contained portable offices and storage facilities. We have years of experience designing containers to synthesize work and storage space, helping to maximize square footage, save on transportation costs, and make access to stored materials much more convenient. All of our modified shipping containers are easy to transport and set up, but combining storage and office space into one container, like we have in out store and work floorplan, simplifies the process even more.
Each container can be modified for ease of access to both parts of the container. A personnel door makes it easy for employees to access the office space. From inside the office, personnel have direct access to the storage space through an interior office door. Portable office containers are also equipped with exterior cargo doors. The storage area extends 25 feet, making it easy to accommodate items up to 20-feet long.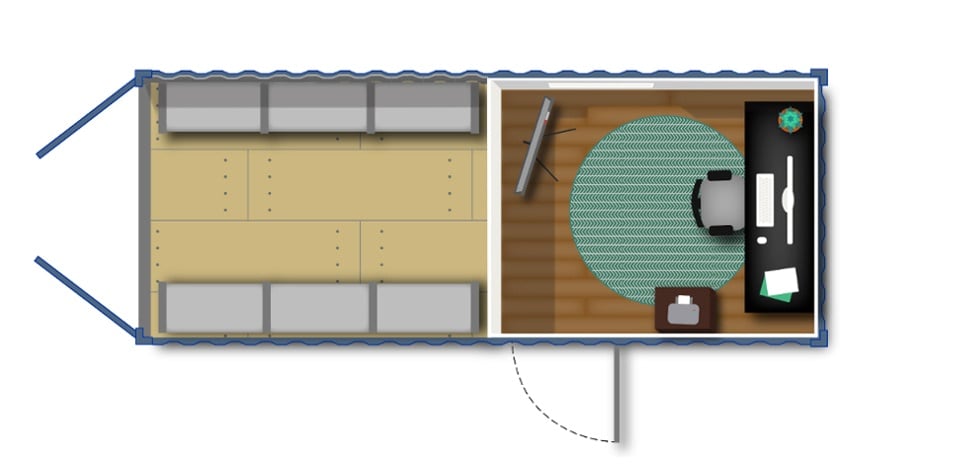 What You Get in a Shipping Container Based Office
Falcon office and storage containers can be outfitted with a wide range of office amenities. The basics include:
Windows to allow for better lighting and air circulation.
Set-up for phone lines and Internet access.
Finished walls, ceilings, and flooring to make the inside feel like an office.
Partitions to give employees their own space.
Ability to add customized modifications, such as shelving and additional windows, or even plumbing and restrooms when needed.
Our containers are also designed to protect both your office equipment and your stored materials. All containers can be equipped with secure doors and a security system. The self-contained portable office and storage facility is made from a reinforced shipping container, which is designed to withstand trans-oceanic travel, meaning that it is highly wind and water resistant.
Containers come fully equipped for basic amenities like electricity and lighting. They are also insulated and contain HVAC, allowing you to control heat, cold, and humidity in extreme climates, thus protecting delicate tools, office equipment, and files.
We'd be happy to help you determine which modified shipping containers are right for your needs. To learn more, give us a call at 877-704-0177 or email sales@falconstructures.com.