Shipping containers are so portable and versatile, it can be easy to forget that they are also some of the most secure structures around. Durability is one of the features that has led to the popularity of shipping container-based workforce housing. Container housing can effectively shield against extreme winds, precipitation, and even burglary.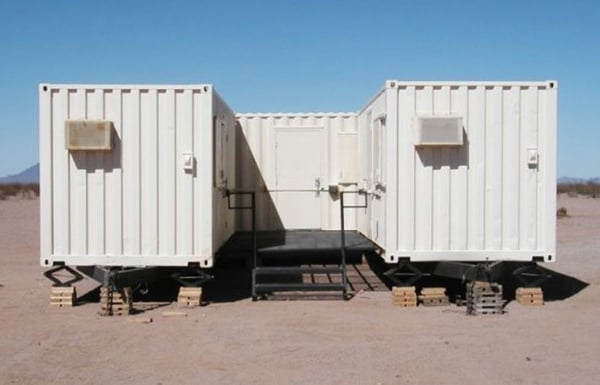 All housing must serve first as protection against the outdoors. It must be able to withstand not only fluctuating temperatures, but storms and heavy winds, as well. Thanks to their structural integrity, shipping container boxes can be easily plotted on just about any flat surface. In high wind environments, fastener options are also available.
Modified Shipping Containers are Made from 16-Gauge Corten Steel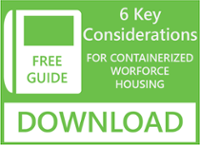 The core structure of a modified shipping container is a steel box, designed to withstand a great deal of transportation while protecting its contents. Conex boxes are made from high-quality Corten steel, which is impervious to water and wind. Even when containers are large (up to 40 feet) or stacked on one another, this resistance is not compromised.
Since shipping container housing is made of high-quality steel, they are quite durable. Over many years, shipping containers continue to maintain their structural integrity. They can also be modified to protect contents from rodents, insects, and outside humidity.
Shipping Container-Based Housing Can be Weather-Tight
At Falcon Structures, all of our shipping containers are certified as resistant to wind and water. In addition to protecting against major weather events, modified shipping containers can be modified to guard against everyday weather issues, such as changes in temperature and humidity.
If the housing will be placed in an area where extreme weather patterns are the norm, then high-quality insulation and an HVAC system can be installed to maintain a comfortable temperature and keep humidity constant. Combined with the wind and water resistance, this can help keep all of the items in your portable home in good condition for as long as possible.
And of course, plumbing and hot water can be added as part of the living container. These elements are critical for any long term living situation. The security of a shipping container housing is not compromised by modifications that make it more livable. Modified shipping container structures are still just as resistant to the elements when features such as second doors and windows are added to the structure.
Considering shipping container workforce housing? Reach out to us at 877-704-0177 or sales@falconstructures.com.