Case Study: Shipping Container-Based Enclosures for Audio Equipment
Big House Sound (BHS), a company that installs high-end sound systems for large events, was upgrading the Darrell K Royal-Texas Memorial Stadium for the new football season. To reach every fan in the 430,118 square-foot stadium, they created a world class sound system. When they needed an equipment enclosure for amplifiers and other audio equipment, fast, BHS reached out to Falcon. As BHS' speakers announce touch downs, amplifiers, and digital signal processors are hard at work, producing an enormous amount of heat that can interfere with the equipment's performance. BHS needed a custom equipment enclosure that could protect their audio equipment while keeping it cool.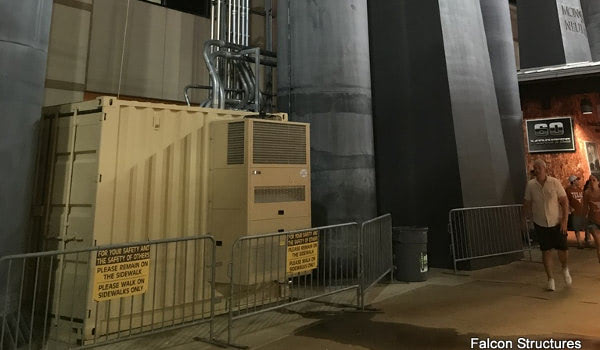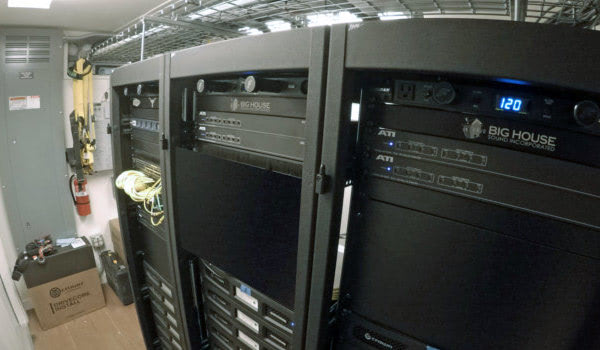 Key challenges: Audio equipment that needs to stay cool
The enclosure needed to be just the right size to house the equipment. BHS also needed the enclosure to hold two heavy-duty air-conditioners.
The solution: Rush order on a container-based enclosure
BHS had an extremely tight timeline, so Falcon provided expedited service. After agreeing to take on the project on a Friday, Falcon had the containers loaded on the trucks for delivery the following Thursday. It was a record turnaround time.

First, we cut a 20-foot container down to an 11-foot container to get just the right size. Then, Falcon worked closely with BHS to cut and frame openings for the air conditioners and wiring exactly to the required specs.
"Now that we know shipping containers are available, we'd absolutely use them for any outdoor or portable enclosure. It's cost effective and robust. Falcon's customizations made installation a smooth and easy process," said Zach Richards, Big House Sound's installation director.
Custom utility ports for conduit enabled fast, plug and play set-up
To power the audio equipment and the air-conditioners, conduit with thick, high-current wiring needed to fit snugly through pass-through openings. Working closely with BHS, we created utility ports exactly to their specs.
Key Features Included:
Steel framing to support heavy duty air-conditioners.
Custom conduit and utility pass-throughs.
A personnel door for easy access.
Welded shut cargo doors for added security.