Case Study: Fortress Obetz, Fast Construction for a Container Stadium
The Village of Obetz envisioned transforming a racetrack into a community gathering space that would set Obetz apart. Great municipal governments, like The Village of Obetz, seek to advance the economies and the spirits of their towns. Building a community gathering space can be a great way to do both. The Village of Obetz needed to build a space that could host fans of the professional lacrosse team,The Ohio Machine, and community festivals. Most importantly, they wanted the citizens of Obetz to feel proud of their future community landmark.
Key challenges: A need for fast construction
The Village of Obetz had a bold vision for their structure, but they also had a deadline. Obetz planned to host a lacrosse game in a playing field adjacent to the structure in less than a year. Fortress Obetz called for fast construction that could only be achieved through modular construction.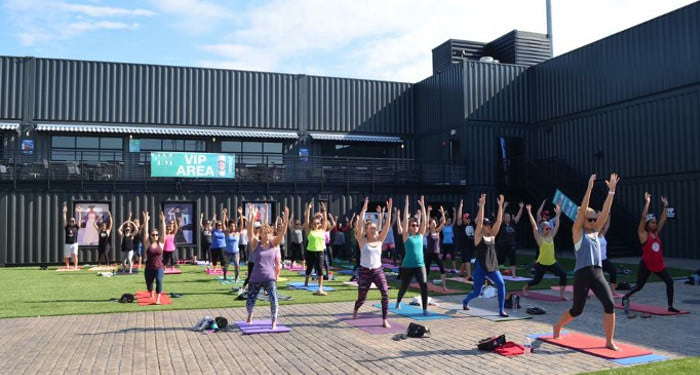 Key features include:
Perfectly level ground-level units that ensure the second and third story units are perfectly aligned.
Interior ticket booths, administrative offices, and locker rooms.
Open patios with bar service on the second level.
Two adjacent wings contain

bathrooms

and concessions.
Securely erecting and anchoring the upright containers, a breakthrough in container structure design and execution.
Towers adjacent to the bathrooms that provided the vertical distance required to separate the air-intake and air-output vents.
False walls inside the bathroom modules hid the ventilation ducts and fans to create a clean, seamless appearance.
The Solution: Off-site construction for the largest container-based structure to date
Falcon Structures' fast, off-site construction approach dramatically shortened the building timeline. The time from drawings to beginning installation was a short two and a half months. Even before the Village of Obetz poured the foundation, Falcon Structures was constructing the modules. Once the containers arrived onsite, installation was simple enough for Falcon and local contractors to assemble 122 containers in 10 working days spread over a few months.
Building a comparable non-modular structure would have taken two years—Fortress Obetz was completed in less one thanks to off-site, container-based construction. It is the largest shipping container building to date.
Fortress Obetz also has strong architectural values. The smoke grey silhouette of the structure looms over a grassy field. The sprawling, 71,112 square-foot public gathering space for lacrosse games and festivals resembles a medieval fortress brought into the industrial era and exudes a sense of fortitude that rivets fans and daunts rivals.
Modular building also kept the construction zone tidy. When the public arrived for an event before the Fortress was technically finished, visitors didn't seem to notice and gave positive feedback on the structure's appearance. The Village of Obetz was able to begin monetizing the structure before it was technically complete.