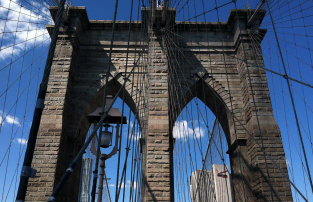 Our blog post last week discussed the most recent natural disaster of Hurricane Sandy and the possible use of repurposed shipping containers for temporary living structures.
We would like to expand on this solution and highlight a plan that has been instituted by New York City and Mayor Bloomberg in conjunction with the Office of Emergency Management (OEM). This plan, which has been in development for five years, will encompass a solution for future disasters and will work to create temporary conex box homes so that individuals may remain in their own communities while their homes are being rebuilt or repaired.
It was recently reported by New York Building Commissioner, Robert LiMandri, that at least 400 homes would have to be demolished along the coast with over 500 more to be evaluated.1 The displacement of families has taken place all along the East Coast in the states of New York, New Jersey and Connecticut. This multi-building solution will allow the placement of structures within the communities that are affected allowing for neighborhoods to remain intact while the rebuilding process takes place. Currently these families are living in rented apartments, friend's homes and area hotels.

Repurposed shipping containers are a mobile and secure base structure for the development of living quarters. These steel structures come in 20, 40 and even 45-foot lengths and are 12 feet wide and just under 10 feet in interior height. Fifty three inch units are also available and often used predominantly in the rail service industry. Shipping container conversions can be made to add windows, walk-in doors, insulation, cooling, plumbing and electric. These containers can be stacked and even cut and joined together to create larger multi-story structures. The mobility feature is key in New York City's plan due to the ability to use these structures again and again. These conex boxes can be modified to create comfortable apartment-like structures for temporary use and then moved and stored until the next disaster takes place.
How did this disaster solution arise as the future in FEMA living? What If New York City was a design contest sponsored by the city to create long-term disaster housing ideas. Ten criteria were outlined for the entrants. The solution criteria stated the living solution must be:
Reusable
Comfortable
ADA compliant
Secure
Cost Effective
Energy Efficient
The contest included numerous submissions including barges, blimps and even cruise ships. A number of entrants proposed shipping containers and the result was this structure meeting all of the criteria above. Repurposed shipping containers have been used as living structures in various communities and in varying design for years. You can refer to our blog post where we highlighted a few recent examples.
The result of this selection is the city of New York and federal officials planning to solicit proposals for the new disaster housing units next year. An area by the Brooklyn Bridge will be home to a multistory prototype on a city-owned lot. The city of New York will be funding the $1.3 million project with a portion taken care by the Federal Emergency Management Agency (FEMA).2 The plan will include a community of structures modified for living from repurposed shipping containers.
This solution and proactive approach to disaster relief housing could have wide spread results. While the East Coast has been recently affected, this solution could be utilized across the US for natural disasters that displace families and businesses from Los Angeles to New York.
This project is exciting news for our industry and it is this type of 'In The Box' thinking that takes our repurposed shipping container product line and brings it to the communities and operations that can best be served. The modification process and planning that happens in the structure's final development will result in efficient, safe mobile temporary housing for those affected by the storms of the future.
For more information on the use of repurposed shipping containers for work, living and storage email us at info@falconstructures.com.