Portable Onsite Storage Containers for Industry
and Commercial Use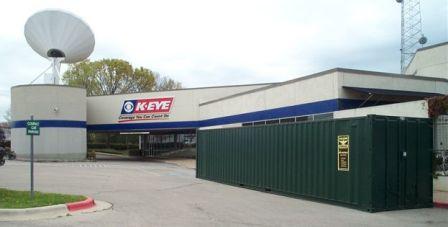 A wide variety of industry and commercial businesses turn to Falcon Structures when they have needs ranging from office space to shelter, record storage and more. Popular uses of portable storage containers for the industry and commercial businesses include:

Oilfield Equipment Operations and Control Centers
Remote locations such as the oilfield need turnkey solutions for workspace and crew quarters. Our portable storage containers are ideal for onsite equipment storage and workshops, while our converted conexes provide turnkey office space and control centers. Because of the heavy duty steel construction, these shipping containers can withstand the harsh environment of the oil field.
Stage and film industry:
Putting on a play or filming a commercial, TV show, documentary, or movie requires a large variety of items which must be out of sight but close at hand. Portable storage containers are ideal for staging and storing props, costumes, special effects items, lighting equipment, and camera equipment. Film productions also use our portable buildings and converted conex boxes throughout the world as on-site / on-location housing for actors and crew in remote locations.
Railroad, airport, and pipeline projects:
Large projects, especially those in remote locations, frequently require on-site storage as well as temporary project housing for workers. Using our storage containers and portable buildings for these uses cuts down on cost and time and allows the work to progress in a more efficient manner.
Golf courses, parks, and resorts:
Outdoor venues typically have the need for portable storage units, shelter, and other structures. Our boxes are designed to handle the elements while keeping their contents safe. Our portable storage containers and converted conex boxes can be used for landscaping sheds, outposts and concession stands.