Case Study: Modular Equipment Shelters for UPS Systems
Active Power, creates UPS (Uninterruptable Power Supply) solutions using flywheels. When there's an outage in grid power, their technology smoothly transitions manufacturers, hospitals, telecom technology, and other critical services to generator power without a blip. A customer with a manufacturing plant requested that Active Power place their UPS technology inside a customized shipping container shelter.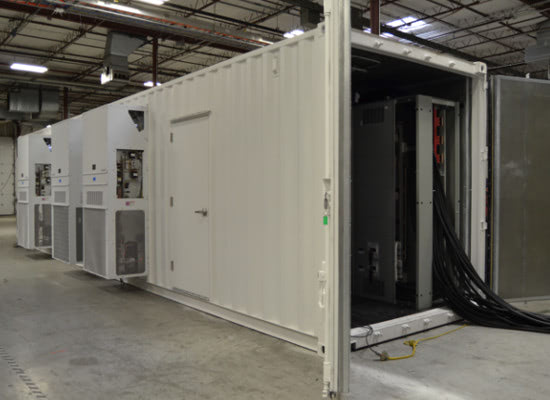 Key Challenge: Create a Secure and Modular Shelter for UPS Equipment
The modular shelter needed to protect Active Power's UPS equipment, which included a backup generator, switch gear, and air conditioners alongside the flywheel UPS system, from weather, pests, and vandalism. A modular and portable solution would also reduce costs for the equipment's long journey to the manufacturer and compress set-up time.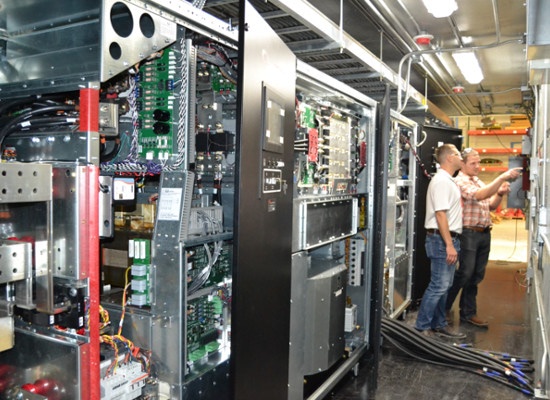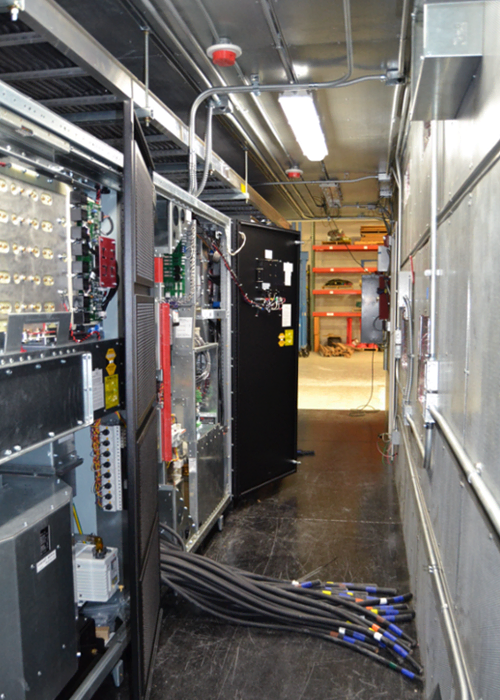 Solution: A Weatherproof 40-foot Equipment Shelter
A shipping container modified to have weatherproof utility ports and doors was a secure shelter for the UPS equipment. Sound attenuating perforated steel also reduced the humming of the industrial air conditioners. The plain white container exterior was designed to look uninteresting and unassuming to deter vandalism.
Our modifications include:
Framed cut-outs strong enough to hold industrial climate control systems.
Epoxy coated floors.
A secure and weather proof personnel door for easy technician access.
Insulated

interior walls with perforated steel

for noise attenuation.
The Advantage of In-Facility Installation for OEMs
Falcon Structures handled modifying the shipping container for Active Power, so they could keep their team focused on manufacturing and installing their core product. Once we delivered the container with bespoke cut-outs and interior finishes, they were able to quickly install their technology and test it in their manufacturing facility.
Assembling their solution inside a modular shelter in their plant as opposed to in the field saved Active Power and their customer time and headaches.
Active Power had all the tools and amenities of their facility to their disposal when installing their UPS system.
Employees didn't have to spend time and money trouble-shooting installation issues at the manufacturer's site.
The customer avoided downtime in the field thanks to plug and play installation.
About Active Power
Active Power manufactures and designs uninterruptible power supply systems utilizing flywheels for projects around the world. In November 2016 by Piller Power Systems Inc acquired Active Power. Active Power and Driven by Motion are registered trademarks of Piller Power Systems Inc. The Piller group is a division of the UK engineering and industrial group, Langley Holdings plc.