Shipping Container Telecom Equipment Shelters and Switch Rooms
A Cost-Effective Way to Protect BTS Equipment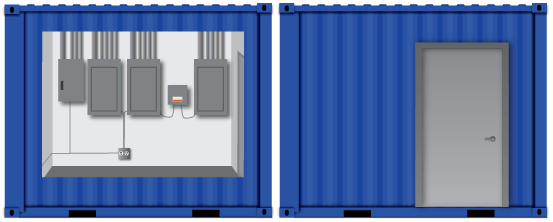 Protect telecom equipment from harsh weather more cost-effectively with shipping container shelters and switch rooms. Shipping containers offer piece of mind and easy access for technicians by shielding key equipment like UPSs, generators, battery arrays, and cabling behind corten steel.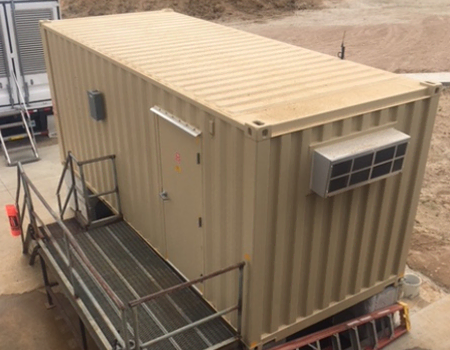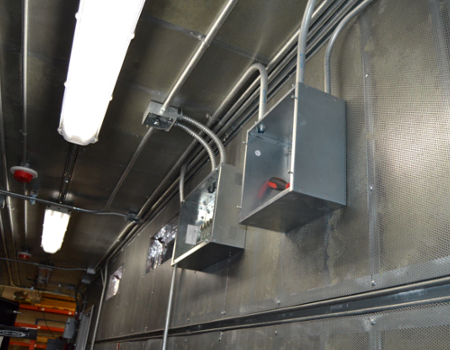 Containers Offer the Features of Concrete or Fiberglass Shelters and More
Falcon Structures has developed shipping container modifications that facilitate easy on-site set-up including:
Weather-tight seals to keep out rain and snow.
Custom utility ports for back hauls and power connections.
Installation for heavy-duty HVAC systems.
Unistrut on interior walls for easy rack and cable tray installation.
Sound attenuation and insulation.
Foundation-free set-up.
As long as the ground is flat, dry and level, shipping container shelters can be placed directly at the cell site without a foundation. Placing the shelter on stilts? The corner castings can attach directly to the pillars with easy twist-lock connections.
Install and Test your Telecom Equipment in your Facility
Don't worry about installing valuable equipment at cell sites while it's raining or snowing. Falcon Structures can ship containerized shelters directly to the OEM's facilities for controlled installation and testing.
Our quality-controlled design process also ensures that we can create replicate equipment shelters. OEM customers often choose to keep spare shipping container enclosures at their facility on stand by for speedy replacement.
10, 20, and 40-foot Container Solutions Cover Your Requirements
Whether you need a 10-foot shelter for cell tower enclosure or two merged 40-foot containers to create a switch room, Falcon's design team will work with you to create a solution. Don't just believe us, check out testimonials from our OEM customers.