Conex Shipping Container-Based Workforce Housing
Keep employees safe and comfortable with containerized workforce housing.
When it comes to cost-effective workforce housing – bunkhouses, crew quarters, man camps, forward operating bases, workforce accommodations, etc. – modified shipping containers are tough to beat. Constructed of weather-resistant Corten steel, Falcon's modified shipping containers protect personnel, deploy quickly, and require minimal maintenance.
Falcon Structures modifies conex containers for workforce housing applications in industries:
Farming and agriculture.
Emergency management and disaster relief.
And more.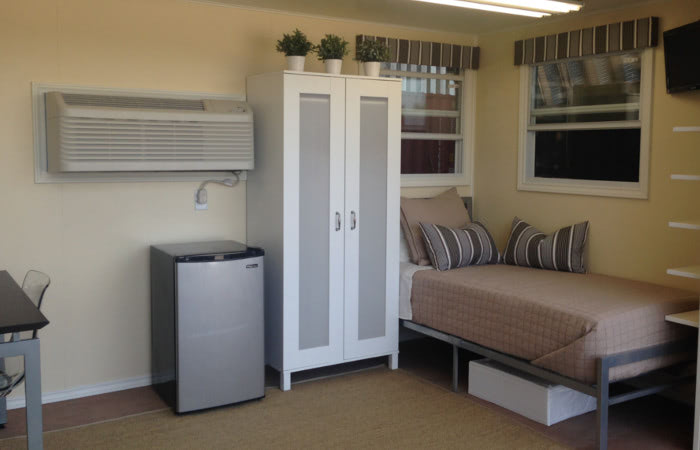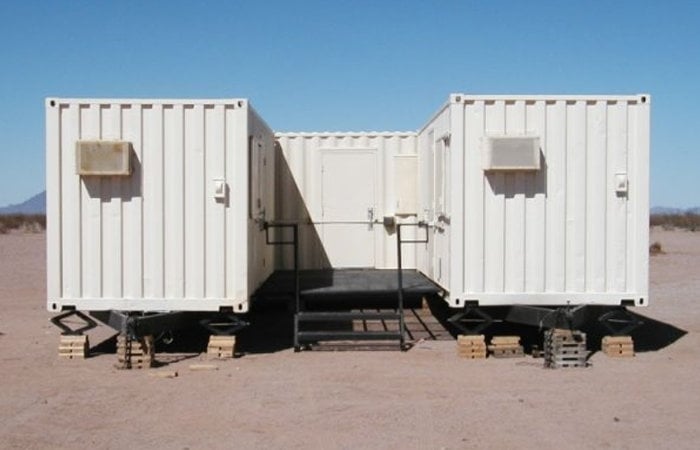 Falcon Structures' turnkey workforce housing solutions are plug-and-play
Modified shipping containers can be placed on nearly any level surface, dramatically compressing deployment time. Customers can often place their container without a foundation, skirting, or steps.
We equip our containers with standard features that cover most client needs including:
Plumbing for a shower, sink, and toilet
Climate control (heating and air conditioning).
Lighting and electric.
Wiring for telephone and internet.
Insulated walls and ceiling.
Need a kitchenette, lockers, keypad entry mechanism, or other special feature? Just ask. We'll work with you to create a custom solution.
Why choose modified shipping containers for your workforce housing needs?
Repurposed conex containers were built to withstand the heat, cold, wind, and precipitation that naturally occur on the open seas. Sturdy, steel construction combined with Falcon's design expertise offer several benefits over traditional modular housing solutions.
Durability. Modified shipping containers can be transported over rough roads and hold up for decades.
Security. 16-gauge, corrugated steel construction keeps employees and valuables safe.
Cost. Reasonable upfront investment plus minimal maintenance costs add up to long-term savings.
Convenience. Built for travel, Falcon's containers are easy to relocate when your jobsite moves.
Speed. Turnkey, quick setup, and no need for a special foundation.
Options. While many options come standard, we can often customize your container to your requirements.