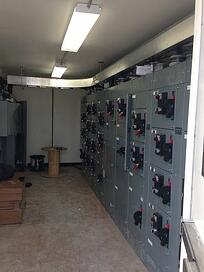 What happens when business takes your team to the desert, the mountains, or some other far-flung locale? Not long ago, you could either overpay to rent the nearest commercial space, or you could risk the elements (and your equipment) in wheel-mounted trailers.
Today, creating portable, affordable field office buildings using modified shipping containers is the smarter way to go. Below, we'll explore how we've assisted three companies in doing just that.
Mobile Server Rooms for Phoenix Petrocorp
Phoenix Petrocorp needed a dedicated, portable server room to house its servers. The servers required constant temperature control—a tall order because of the amount of heat produced. In addition, temperatures had to remain constant and the servers needed to be secure even during transport. A modified shipping container, complete with additional modifications for climate control and personnel access, was the solution.
Oil Field Work Camp Kinder Morgan
Kinder Morgan needed to set up remote oilfield offices and storage structures at their Texas production sites. Requirements included personnel restrooms and moisture-controlled storage. Kinder Morgan installed three portable office buildings, equipped with added restrooms, at all three of the production sites. Nearby, secure and insulated storage buildings were also installed.
Office Container for Lockheed Martin
When Lockheed Martin needed a portable office building, they had unique requirements. Lockheed Martin needed a portable, affordable office building that could be transported by airplane. Instead of using a traditional, ship cargo shipping container, they instead purchased an air cargo container compatible with standard air travel. The container was equipped with several modifications, including:
Stanley Vidmar cabinets
Electrical connectors resistant to water
Marine-grade doors
Key Features
Looking at these three examples, it's easy to see why more companies are using shipping containers for remote, portable offices:
Easy Climate Control—both for comfort and for equipment safety
Affordable Customization—from personnel doors to shelving and storage
Incredible Security—inside and out
Instant Portability
However, the biggest theme is that the needs of each company are unique. Even in the same industry, companies tend to have particular requirements—based on their size, budget, culture, or regulatory boards. Similarly, even within the same company, what works for one remote office site doesn't always work for another. That's why a highly customizable solution like modified shipping containers is the ideal answer.
We'd love to help you design your portable, affordable office building using a shipping container. To learn give us a call at 877.704.0177.