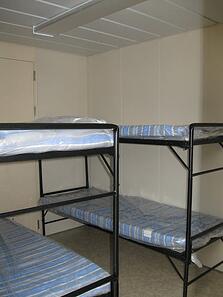 Temporary shipping container quarters provide housing solutions in a number of settings—including military bases, disaster relief camps, and remote work sites. Although the reasons for using these homes vary, there are some key features in a temporary shipping container structure that everyone wants and expects. Here are just a few:
1. Amenities

Everyone wants to feel comfortable. A good night's sleep and a low-stress living area can dramatically improve people's health and work performance. For that reason, shipping container homes are normally equipped with at least a few basic amenities. (Of course, you can add more and customize however you want.)

Here are some of the basics:
Solid flooring
Windows
Electricity
HVAC
Insulation
Running water, toilets, and showers
For longer use cases, with an emphasis on residential comforts, containers can be modified to include porches, skylights, awnings, sliding doors—pretty much anything you could find in a permanent residence.

2. Efficiency

Space is usually limited in a situation where temporary housing is needed, as is budget. As a result, efficiency is of the utmost importance. In terms of space, shipping container structures are quite efficient: a 40-foot container can hold up to 8 individuals. Thanks to their small size and quality insulation (after modification), the containers can also be made efficient in terms of energy consumption.

Shipping container structures aren't just efficient on their own. They can be easily linked to one another by placing them side-by-side or by stacking. This increases the efficiency in terms of space, and can create multi-room homes or a more community-centered setting, as desired.

3. Ease of Set-Up, Break-Down, and Transportation

By nature, temporary homes are designed to be inhabited for a limited period of time and then moved to where they are needed next. Additionally, speedy set-up is essential in disaster relief situations. Therefore, the ease of portability is one of the most important features in a temporary shipping container home. Shipping container homes can be easily set up and broken down, as well as transported using normal shipping channels.