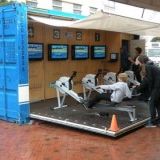 When you start to think about all the interesting things that can be done with a modified 20' foot shipping container that has 160 square feet or a 40' shipping container which has 320 square feet you start feeling like your options are endless. Take a look at how they modified this shipping container to fit their needs.
Four flat screen televisions were mounted to the wall for viewing purposes
Stationary rowing bikes were also mounted for stability and ease of transport
The set up and break down of a display like this is so easy
Transport it anywhere you have your next event
I could easily see something like this being used in Austin for SXSW or even the Austin City Limits festival. And, San Antonio has just as many events and shows. Just let your imagination run wild.... "If you build it...they will come".....