Since we launched our shipping container homes in September 2010, we have received feedback from a lot of you about the importance of different features, and the overall price/value. Based on your feedback, we have modified the standard features of the Living Box, and created a more affordable entry level shipping container home.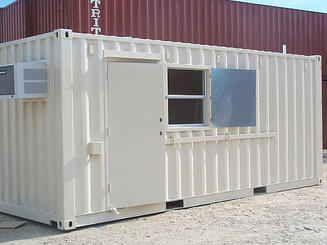 So, what did we change?
Insulation. Your feedback was that not everyone needs the high R-value insulation package, so we changed the standard insulation to an R-5 rigid foam application. The R-18+ insulation package is now an option for those who want it.
Windows. We changed the type of window to a sliding vinyl window, instead of an awning window. This makes the window more suitable for the security covering option, without sacrificing its look and performance.
Flooring. Based on your feedback, we changed the standard flooring to vinyl tile. The engineered bamboo flooring is now an option for those who want it.
Exterior color. The standard color is now tan or green. Other colors are available as an option.
The Result
We have been able to make the Living Box even more affordable than before.
The 20 ft. Living Box line now starts at $15,300.

Again, we thank you for your feedback on the Living Box – keep it coming!