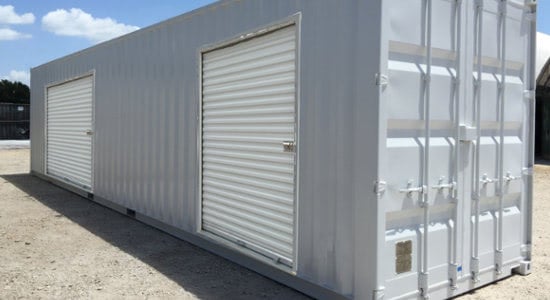 I've recently worked with several businesses in the Austin and San Antonio who are using portable storage containers to make doing business easier. There are a lot of different ways that storage containers can be used in different creative ways to make conducting business easier and more efficient, here are just a few them
Storage containers are being used in Austin by a paint supplier. The supplier provides their best customers with storage containers and fills them with supplies. By using a storage container the supplier saves time and money on deliveries and the customers are ensured that they won't run out of product.
Here are a few other modified shipping container uses we've seen around town:
We recently supplied a local hospital with cool box storage containers so they could store heat sensitive electronics during a renovation.
A local retailer retailer recently purchased a couple of storage containers to store supplies at their facilities management location.
Several local construction companies in Austin and San Antonio use storage containers to stage materials and store tools on-site during construction and renovation projects.
These are just a few ways I see companies using storage containers every day.
If you would like to learn more about why shipping containers are a great choice for functional space,
we're here to help. Contact Falcon Structures at 877-704-0177 to speak with a knowledgeable sales representative today.