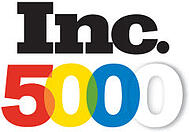 The news keeps happening here at Falcon Structures. We have talked about expansion, growth, hiring, new projects and military contracts in our most recent blog posts and newsletters over the past year. All of these efforts are worth reporting and writing about as a testament to the dedication and hard work each of the Falcon Structures staff members have committed to our organization.
It is just this type of effort in an entrepreneurial environment that has given us the power and movement to gain notoriety in the established and well recognized list of fastest growing companies in 2011, as noted by Inc. 5000's list of the best and the brightest of entrepreneurial companies.
It is our 4th year of recognition and the 72% revenue growth that we have experienced over a three year span is exciting. We have grown our staff, moved our headquarters, expanded our locations and created unique solutions using repurposed shipping containers. We as a company look back at the last four years of Inc.'s recognition and the last 9 years since our company's inception and we are thankful for our clients and partners who have helped us to create our success.