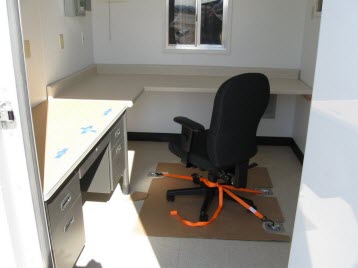 Let's take a few minutes this week and talk about exactly what it means to 'modify' a standard ISO shipping container. These containers are manufactured to standards set by the Intermodal Organization for Standardization. Each 20 and 40 foot container is made to the same exact specifications by dimension and construction. You can refer to our site for measurements and diagrams of each.
The process to modify a container is essentially the addition of features to enhance the use of the container for the business purpose or function. The modification of the container can include a variety of additions to include doors, windows, different levels of insulation and interior finishing. Plumbing, electrical and climate control can also be added to the container making this structure extremely versatile in it's use.
The options that can be added are:
Painting of Interior and Exterior
Lighting and Power
Doors, Windows and Vents
Interior Partitions
Climate Control
Interior Finish Out
Plumbing
At Falcon Structures, we have developed a set of products to meet the needs of most business uses. Each product begins with a base Conex Box in either a 40-foot container size or 20-foot container size. Most customers ask us to modify a box in the Type 1 category for rating which attests to its condition and its wind and watertight certification. Depending on your needs, we have a container that will accommodate your storage, office or industrial living requirements. The use of a modified repurposed shipping container in your business, living or storage, need may be the right decision as you work to simplify your operations.