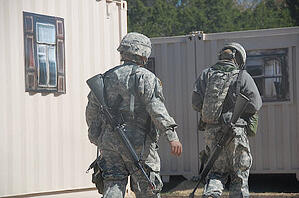 I was recently flying on a business trip and had the pleasure of sharing my flight with a young man who was just beginning his military career. At the age of 18, my flight partner was excited and nervous to be experiencing only the second flight in his life. I was impressed with his eagerness and somewhat amazed at his naivety. The unfamiliar sound of the landing gear surprised him and the prospect of seeing snow on his journey would be a first. With his 18 year lifetime spent in Mississippi, this eager young soldier was just beginning a journey that would take him across the globe to serve our country.
The brief encounter caused me to reflect on our troops, the experiences that they will encounter and it helped to reinforce my tremendous respect and personal gratitude at their service to our country. My new young friend was heading to Camp Lejuene in Jacksonville, North Carolina. The coincidence of our encounter left me with quite a bit to reflect on. As the CEO for Falcon Containers, I have had the professional pleasure of partnering with the Commanders for the Military, including the Marines, Air Force and Army to create training solutions with the use of repurposed shipping containers. Our Falcon Containers facility is currently fabricating repurposed shipping containers to be used in a Mobile MOUT village to assist with Improvised Explosive Device (IED) training for a few projects including Camp Leguene.
Since 2008, IEDs are the leading cause of death and injury for American soldiers serving overseas.1 The use of IEDs has been around since WWII and in Afghanistan it is commonplace as they can be masked in everyday containers and buried in the dirt roads found in Afghan villages. In Iraq, the use of IEDs is also prevalent in open areas as the use of paved roads throughout these villages limit the underground placement.
While the topic of death and injury is an unpleasant one, our troops must be prepared to protect themselves as well as the civilians they are protecting as they encounter these devices in their overseas environment. While I was amazed at my young friend's lack of experience with snow, it reinforced how important it is for the realism training to take place in our homeland to better prepare our troops for their service and their own safety. In only a short time after these newly enlisted service men are deployed, they will be landing in a foreign country with unfamiliar structures and environments.
Falcon Structures takes extreme pride in the projects we have completed. They are a complete transformation of 20 and 40 foot conex boxes into structures simulating an Afghan village. Windows, doors, hallways, and multi-level structures complete with exterior facades all work in conjunction to create these urban training solutions that recreate the specific operational theater environment where these young men and women are going to execute operations.
I am thankful for my brief encounter with a member of our military forces. I am also thankful and proud to be a part of an organization that will assist my young friend and many others in being better prepared for the live action environments they may encounter overseas. For a view into the projects that we have completed for military training, please visit the Military Training Solutions area of our website.
1 August 2012, New York Times, In Toll of 2,000, New Portrait of Afghan War