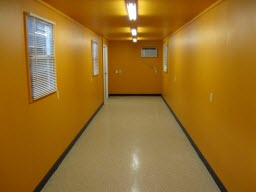 Portable buildings are essential to any onsite work camp—but especially in the oil and gas industry, where production site life cycles are unknown. Portable office buildings make operations more efficient and more affordable. Modified steel shipping containers are an ideal solution for oilfield housing and for other portable buildings needed on a man camp—including cafeterias, rec rooms, and laundry facilities.

Transportation & Set-Up
Steel shipping containers make great portable buildings because they can be easily transported to even the most remote areas. Shipping container homes can be loaded onto standard carriers and unloaded using standard cranes, winch trucks, or a large forklift.

Once the portable buildings are on site, they are easy to set up, even when plumbing, electricity, and HVAC are involved. Typically, all that's needed to securely set up portable living containers is a flat surface. Work camps and offices are often set up in remote areas where there is little infrastructure available, and with portable shipping containers you're able to bring much of that with you.
Portability
In some cases, oilfield housing and other remote work camps need to be relocated quickly. The easy set-up and transportation of steel shipping containers is again an advantage. Steel shipping containers are extremely weather-resistant and can be climate-controlled to make them suitable for all climates. This means that if you do move your work camp, you won't have to worry about new weatherproofing measures.
Customization
In addition to being easy to move, portable buildings can be easily re-purposed, as needed. If the needs of your camp change, portable office buildings can be turned into portable housing, or vice versa; the only thing that will change is the contents.

If your work camp expands, you can add more buildings and space without needing to make drastic changes to your set-up. More space can be added to buildings by stacking or joining shipping containers. For example, if your work force expands, you can add more living quarters by joining new shipping containers to your current living quarters, while still maintaining the current layout of your camp.