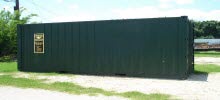 Most oilfield sites are surrounded by rural areas; they lack the infrastructure to accommodate legions of work crews and operational executives. Today's oil companies find themselves in need of portable office buildings, storage spaces, mobile IT rooms, and temporary living units.
Falcon shipping containers are able to meet all of these needs and more. In fact, containers have become the de facto standard in portable buildings for oilfield operations. Conex boxes, as they're also known, can even be used in offshore drilling situations. There are many benefits to this unofficial industry standard—here are seven:
Shipping containers are highly customizable in terms of both individual containers and assembling groups of containers. Containers can be joined and/or stacked for a wide range of square footage needs.
Containers are pre-fabricated for easy set-up, including easy access for electricity and plumbing.
Our modified containers are compatible with basic amenities like running water, insulation, electricity, and HVAC—all of which are very important in oilfields, where extreme temperatures are common.
With options for added security, containers allow you to protect valuable equipment and technology.
Unlike factory-built housing, steel containers are highly resistant to wind and water. Shipping containers are originally designed to withstand open ocean conditions, and are reinforced prior to modification.
Containers are easily portable via normal shipping routes, thanks to the fact that shipping containers are designed for frequent transportation.
Containers are inherently durable, because they are made of heavy-duty Corten steel.
Shipping containers are also ideal when used as portable buildings for housing and recreation. The same containers can be used for recreation rooms, laundry facilities, executive offices, and much more.

Once an oilfield is vacated, it's easy to relocate and reuse portable buildings at a new site. In addition, shipping containers can be rented in situations where the need is especially short-term. Over all, shipping containers are highly compatible with the dynamic nature of the oil industry.

To learn more about how you can use portable buildings for your mining or oilfield operations, please click here or give us a call at 877.704.0177.