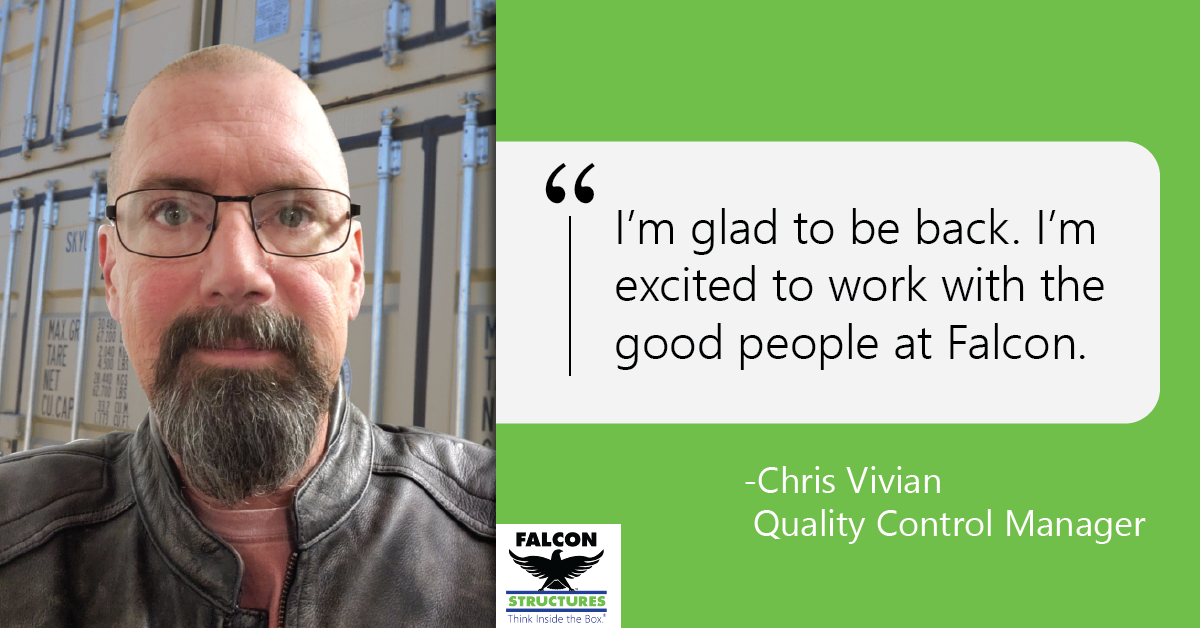 The first time Chris Vivian was hired at Falcon Structures the company was still a small storage rental business. In fact, Falcon's co-founders hired Vivian as the company's first employee. Both Falcon and Vivian have come a long way since then, and we're excited to welcome him back in a new position: Falcon's first quality assurance manager.
Vivian started at Falcon Structures as a truck driver and steadily amassed more duties including dispatching deliveries, coordinating inventory, and taking care of customers. At the beginning of Vivian's first stint with Falcon the company was still in the process of putting down roots. Often, Falcon's CEO Stephen Shang, worked out of his apartment, and Vivian would drop off paperwork for deliveries there.
"When Stephen and Brian started this thing, they hired me out of a career rut. I got to learn different roles and once I got to Midland, I just went up and up," said Vivian.
Vivian eventually left Falcon on friendly terms to pursue work as an oil head technician in Midland, Texas, where he was eventually promoted to a senior service supervisor for Pioneer Natural Resources. His work in the oil fields continued to grow his skill set in coordinating complex and technical operations.
Although he had considerable career success in Midland, Vivian is happy to be returning to Manor, Texas.
"Life is hectic in Midland. I was on call seven days a week and the scenery and traffic are just horrible. I'm glad to be back. I'm excited to work with the good people of Falcon," said Vivian.
His return to Manor is well timed. To achieve AC462 code compliance, Falcon Structures recently underwent a rigorous expansion of its quality control program. Falcon created the quality assurance manager position to keep that momentum going, and to continuously improve its products.
"It was perfect timing when we reconnected with Chris," said Shang "I anticipate his experience coordinating complicated procedures at the oil heads will carry over to managing quality in our modified container products."
Interested in joining the Falcon team? Send your resume to jobs@falconstructures.com.