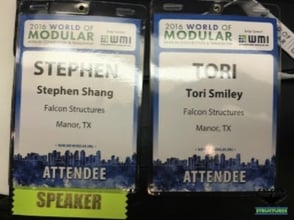 Earlier this month, more than 700 modular construction professionals convened at the Manchester Grand Hyatt in San Diego for World of Modular 2016 (WoM).
Hosted by the Modular Building Institute, WoM is touted as the modular construction industry's largest trade show and is a great place to find out what's happening in the industry.
Among the attendees – and speakers – was Falcon's CEO and President Stephen Shang. So after the show, we asked Stephen to share his insights from the 4-day event.
What recent trends in the modular construction industry were people buzzing about at WoM?
SS: There were two major trends people were talking about at the show, and they both had to do with containers. Using ISO shipping containers as building elements and structures is definitely something on top of people's minds, so there was lot of buzz about that.
Then, as a corollary to that, a lot of people in the industry are concerned about what type of building codes relate to containers as building elements, as well as the regulations surrounding containers for that purpose.
From a technology standpoint, I think leaders in our industry are really proud of a couple of things, one being that the industry is advancing technologically. Also, there are some new advances with wall panel technologies and the multi-story or stackability of modular structures.
There was also some interest in tiny homes among the crowd.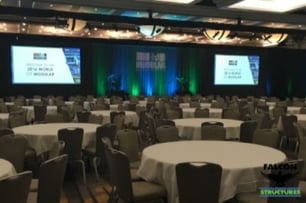 What is Falcon doing to take advantage of new technology and advances in the modular construction industry?
SS: We've always been very forward thinking in our product design, so we regularly meet with vendors pitching new technology. WoM provides a great environment to connect with vendors and exchange ideas. From there, we can figure out how to incorporate those ideas into our product mix for customers.
Your breakout session with Sea Box, "What's Next for Shipping Containers in Modular Construction," covered a number of topics and trends pertaining to containers. What kind of feedback or questions did you get from the audience?
SS: People were really curious about the ICC (International Code Council) acceptance criteria,* so I received questions about what that really means. My key takeaway from that session is there definitely is a pathway to legitimizing containers as building elements today. Currently, the code environment is difficult and confusing to say the least.
Looking ahead, what changes should people expect from the MBI in the next year, and the next five years?
SS: Based on conversations with folks at the show, there is more curiosity and acceptance of containers as modular building elements or building blocks. And I would say significantly more so than five years ago. So while acceptance isn't mainstream, there is a trajectory where acceptance is increasing.
Overall, it was very encouraging to see how open minded the traditional modular industry is toward containers and container structures during WoM 2016.
Moving forward, containers will become more and more a part of the modular landscape, and companies will include container structures as a larger part of their portfolio. From our perspective, the sky is the limit. I can't see any other industry that is as positioned to explode as this one.
If you have questions about ISO shipping containers for your industrial, construction, military or housing application, we're here to help. Give us a call at 877-704-0177 to speak with a Falcon representative today.
* Container structures are not currently regulated by The International Building Code (IBC) or any other regulatory agency. However, the International Code Council (ICC) has recently recommended that container construction be included for future regulation. Until then, it's Falcon Structures' intent to follow the general regulatory guidelines set forth by the IBC that apply to the scope of each project. For residential use, we suggest all of our customers check their local city building codes or Authority Having Jurisdiction (AHJ) before beginning their project.