Every year, a Falcon Structures client produces and delivers gifts for billions of young people across the globe in one night. Understanding the high value of time-efficiency, Saint Nicholas reached out to Falcon to containerize his gift equipment and his staff's workspaces and storage.
"Each year, the types of toys children ask for changes. One year I might be making millions of Hot Wheels, the next year it's Tamagotchis. My facility has to be extremely versatile," said Nicholas.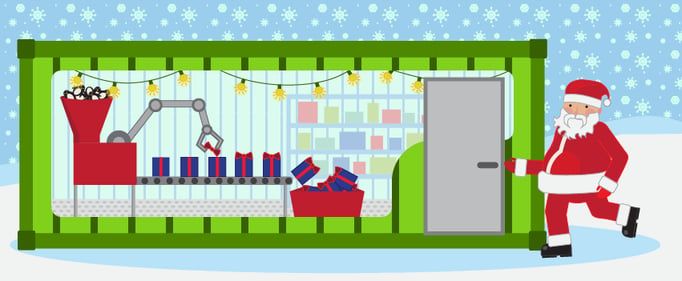 When asked what made him reach out to Falcon after centuries of success in charitable gift-giving, he scratched his white beard thoughtfully. "The requests for smart phones were really what pushed me over. Refining rare earth minerals for the chips is proving to be a delicate process, and I just can't afford to have another gingerbread equipment shelter spring a leak."
Nicholas needed a gift manufacturing facility with equipment shelters, storage, and office space that would be rugged enough to keep out snow and sleet, yet versatile enough to accommodate yearly changes to his production goals. Modular shipping container structures were a perfect solution.
Falcon created insulated equipment enclosures with personnel doors and climate control systems, and custom pass-through openings for plug-and-play utility connections. Mr. Nicholas' operations team can rearrange their self-contained manufacturing plants as needed to maximize efficiency.
For office space and gift storage, Falcon created work and store shipping container offices, a product from our catalog. Choosing a product from our standardized line allowed Falcon to complete the work and store containers with extra efficiency—just seven weeks from the order to delivery. Approval from Nicholas' purchasing department was also speedy and streamlined.
"It's just so much easier for me to approve one design and then order as many containers as I need in one purchase order," said Thomas Elvin, head of Nicholas' purchasing and compliance department, "Plus, it's nice to finally have some insulation in my office. While delicious, the gingerbread houses didn't keep out the wind chill."
As always, Falcon Structures offered to arrange trucking and delivery, but Falcon and the client agreed that a specialized freighting service was the best solution. We secured the harnesses of eight reindeer to the reinforced corner castings, who then galloped into the winter sky for air delivery to Nicholas' facility in the north pole.
"I'm very pleased with how my containerized facility turned out. My gift manufacturing is faster and my staff more comfortable. Shipping container structures really work for the challenging conditions in the North Pole," said Nicholas when we called to check in on his experience.
It's always a pleasure for us to help hardworking people like Nicholas find containerized solutions. If Nicholas ever needs to expand his gift-giving capacity again, Falcon will be ready to deliver.
Wondering if a container-based structure could improve your business? Our sale representatives are always happy to answer your questions. Call at 877-704-0177 or email at sales@falconstructures.com.