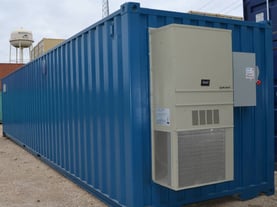 At Falcon Structures, we manufacture shipping container-based shelters and enclosures for a variety of industries. In recent years, our engineering team has collaborated with the water treatment industry to design solutions to containerize equipment domestically and abroad in modular shelters.
In addition to the inherent durability ISO shipping containers provide, Falcon's modular shelters for water treatment include:
Climate control systems to maintain a desirable temperature.
Specialized flooring for liquid containment.
Multiple pass-through access points to accommodate pipes and electrical.
End users are pushing for turnkey containerized solutions for water treatment applications
Utility companies commonly use water treatment systems for two key applications – during the day-to-day running of power plants and to clean up contaminants produced by power plants.
Modified shipping container shelters are ideal for large-scale, cleanup initiatives, because they can easily be moved from one cleanup site to the next. Plus, investing in modular equipment enclosures makes more financial sense than stick-built structures that serve a one-time need.
Industrial equipment shelters built out of connex shipping containers also provide superior protection from the elements compared to stick-built structures. Weatherproof ISO containers keep the rain, heat, cold, and wind out, which results in a lower probability of equipment failure and reduced maintenance costs.
Eight reasons modified shipping containers work well for water treatment applications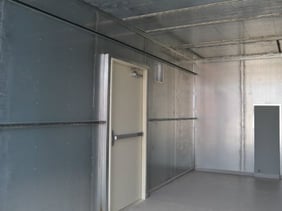 Falcon's tried and tested water treatment equipment enclosures and shelters consistently top traditional equipment enclosure structures and other containerized solutions. That's because Falcon's modified shipping container solutions are:
Mobile. Repurposed ISO shipping containers can easily be moved from city to city, state to state and around job sites as needed.
Fast. Falcon can deliver finished equipment enclosures in six to eight weeks, a lead-time which is unmatched in the industrial enclosure market.
Turnkey. Falcon's plug-and-play, containerized solutions can be customized to accommodate your unique requirements, including access points. Plus no special foundation, skirting, or steps are required, which further expedites setup.
Durable. Constructed of 16-gauge, Corten steel, ISO containers are built to last and have a lifespan of up to 25 years.
Flexible. In the hands of an experienced shipping container manufacturer like Falcon, containers can be modified to accommodate an endless variety of water treatment applications.
Secure. Falcon's sturdy, watertight container structures protect equipment from the elements to help ensure optimal lifespan and performance of water treatment systems.
Safe. After nearly 15 years of manufacturing solutions for industrial applications, Falcon's time-tested engineering practices help ensure safe installation and operation on the job site.
Cost-effective. The 25-year lifespan, minimal onsite preparation, and low maintenance requirements add up to long-term cost savings.
To find out if a modified conex shipping container would suit your water treatment equipment enclosure application, contact us. Just give us a call at 877-704-0177 to speak with a friendly Falcon representative.
Already know what you're looking for?