For decades, modular building manufacturers have predominately relied on wood-based construction over steel. Now, modified shipping containers have grown in popularity as an alternative to wooden structures and can be found anywhere from industrial jobsites to educational applications.
But are modified shipping containers safe and secure? After all, they're not brand new and have been knocked around quite a bit.
The short answer is: Yes. The long answer is: Yes, in fact repurposed steel shipping containers are typically more safe and secure than traditional modular structures. Here's why: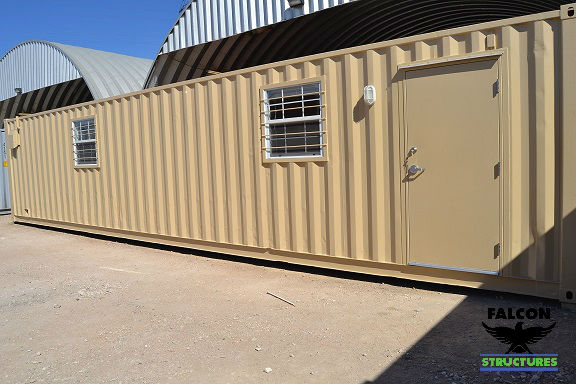 Steel container construction offers superior protection from environmental threats
Built from Corten steel – or weathering steel – shipping containers were designed to carry 20,000-30,000 tons and keep goods dry and secure during ocean travel. This same sturdy steel resists the elements when containers are modified into a jobsite office, storage facility, mobile restroom, industrial enclosure, schoolroom, home or retail site.
Repurposed shipping containers do a great deal more than keep the rain out. The durable steel prevents rodent and other pest intrusions, plus modified containers stand up exceedingly well during extreme weather conditions.
Unlike wooden structures, steel has a high strength-to-weight ratio, so repurposed shipping containers can safely hold and support more "cargo." Plus, sturdy steel containers absorb energy more effectively than wood. That means they hold up significantly better during earthquakes and under intense, hurricane-force winds.
This added protection helps give employees peace of mind should pests frequent the area, an extended rainy season pop up or a natural disaster strike.
Innovative shipping container modifications provide optimum comfort and security
All Falcon modified shipping containers can be fitted with state-of-the-art HVAC systems, along with several grades of insulation to choose from. This means employees on a North Dakota oil rig in February and construction workers on a Texas jobsite in July all have a comfortable place to escape the elements – 24/7/365.
That "place" may include a mobile field restroom, break room, employee housing, training rooms, office space, and more. An efficient HVAC system also protects machinery, IT equipment, computers, and other supplies from damage and deterioration.
When securing company assets and keeping employees safe is non-negotiable, a jobsite security system is vital. Our repurposed shipping containers can include motion activated lighting and can be pre-wired for security cameras and keypad or keycard entry systems.
In addition, we can fit the containers with sturdy, steel doors, deadbolt locks and burglar bars to secure windows. These tools help employers keep tabs on employee activities to prevent theft, while increasing employees' sense of security.
Durable, repurposed shipping containers also protect your bottom line
There is no shortage of used shipping containers piling up on the coastlines near cites like Savannah, GA, Long Beach, CA and the Texas Gulf Coast. By recycling these abandoned containers, our clients benefit from a lower initial investment compared to traditional modular structures.
Depending on your goals and budget, Falcon's team can modify one or several containers to meet your organization's unique needs. That lower initial investment combined with durability, low maintenance and an extended lifespan, can amount to short- and long-term savings.
To learn how repurposed shipping containers can keep your company and employees safe and secure, while having a positive impact on your bottom line, give us a call today at 877-704-0177.