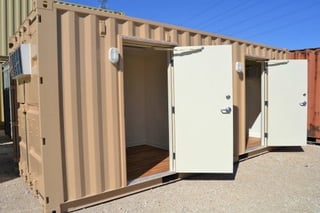 Mining operations rely on modular buildings for a variety of applications – from control rooms to mobile test labs to secure storage. As we explained in a recent post, replacing job site trailers with modified shipping containers improves efficiencies in mining environments.
How? Inherently durable and built to last, Falcon Structures' shipping container buildings suit harsh mining environments extremely well. In addition, the innate mobility of shipping containers provide time and cost savings at mines where equipment is frequently relocated.
Don't let the rugged, steel exterior fool you
Connex shipping containers can be modified to address numerous needs for mining operations. Upon entering a container, employees don't feel like they are standing inside a steel box – they feel like they are in a comfortable workplace environment or living space.
Containers can be fitted with professional office finishes, electrical, climate control, plumbing, security features, and more. Plus, Falcon's proven engineering and manufacturing processes help ensure the safety of workers and valuable assets on the job site.
Six popular applications for shipping containers in mining environments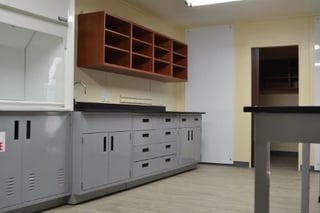 1. Mobile test lab or industrial equipment enclosure. If you need to test or process materials as they are removed from the ground, it's nice have a mobile test lab or industrial equipment enclosure nearby. When the job site moves, the test lab or equipment enclosure moves with you.
Containers can be customized to suit your laboratory or equipment enclosure application with pass-through access points for pipes and electrical, ventilation systems, climate control, and specialized flooring (¼" steel plate with epoxy coating) for spill containment.
2. Control room or job site office. Along with comfort and convenience features, mobile office containers can also be fitted with multiple windows to survey the entire work site, storage space, security systems, and even a restroom.
Position the control room in a location that allows your job foreman or site manager to survey the entire site. Then relocate the control room or container office with a forklift or crane when the job site moves.
3. Secure storage space. Protect valuable equipment, utility vehicles, tools, documents, and more in a secure, lockable storage container. Due to durable steel construction, containers are incredibly difficult to break into. Keyless entry systems and other security features are also available to secure the space and monitor access.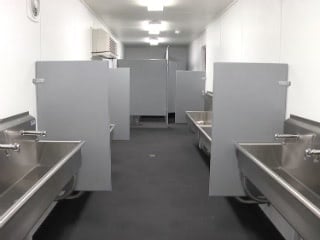 4. Mobile restrooms. Since conex containers move where the job site moves, climate-controlled shipping container restrooms can be conveniently positioned nearby. That means more comfort for workers and less downtime for bathroom breaks. Unlike traditional porta-potties, containerized restrooms can be fitted with durable interiors that are easy to clean and maintain. Popular options include:
Stainless steel toilets, urinals, and sinks.
Waterproof, slip resistant flooring with 2" drains.
Stain-resistant, 3/4" FRP-covered plywood walls.
Hand dryers.
5. Mobile comfort stations, locker rooms, and break rooms. Miners need breaks throughout the day, lockers to store valuables, and a place to shower and change clothes. They also need a place to grab a bite to eat and relax, while being protected from the elements. Shipping containers can be modified to meet these needs and more.
6. Workforce housing and camps. If the mine is located at a remote site, and you need to provide sleeping, dining, and bathing accommodations for employees, Falcon's workforce housing containers keep employees safe, comfortable, clean, and productive. ISO containers can also be transformed into first aid stations, mess halls, recreation spaces, laundry facilities, and more – you name it.
To learn how shipping containers can be modified to suit the needs of your mining operation, give us a call at 877-704-0177 to speak with a friendly Falcon representative.