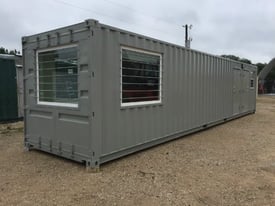 Active mining operations regularly deal with rugged environments and the need to relocate equipment. These conditions take a toll on equipment and impair efficiency. One way mining companies can save time and money is to replace trailers with modified shipping containers field offices and workforce housing.
Why? Containerized structures far exceed traditional or modular buildings when it comes to durability and mobility. Consequently, modified shipping containers can improve efficiencies in mining environments by:
No. 1: Mining companies lower repair and replacement costs by choosing modular structures.
In the long-term, mining operations save time and money by investing in high-quality, construction equipment that is:
Built to last.
Stands up to extreme weather and job site conditions.
Requires minimal maintenance.
Job site trailers last five years at most, because thin wood and vinyl building materials fail regularly. Durable, steel shipping containers average a 25-year lifespan and require minimal maintenance.
In addition, shipping containers can be modified to meet needs unique to your mining application.
For example, Falcon shipping containers come with 1-1/8" marine grade plywood flooring supported by steel joists. You won't find that degree of durability in other modular buildings. However, your container can also be fitted with special flooring (¼" steel plate with epoxy coating) for spill containment. This option helps prevent floor deterioration in equipment enclosures and mobile test labs.
No. 2: Container-based buildings shorten time to revenue.
Falcon maintains a substantial manufacturing capacity, so we can manufacture and deliver your modified shipping containers in as little as a few weeks. Building permanent structures or foundations for job site trailers takes much more time.
In addition, ISO containers can be fitted with turnkey electrical and plumbing, and typically setup directly on the ground, so they don't require special foundations, fittings, skirting, or steps. Simply connect to utilities and go.
Speedy delivery paired with quick setup means mining operations will also be able to mine materials sooner. This fast track from installation to operation ensures an efficient path to revenue generation.
No. 3: Conex containers reduce downtime related to the relocation of mining work sites.
Not only do containers move and set up quickly, you can reduce the number of man hours needed to get shipping containers up and running. This drastically reduces installation costs and downtime required to move them around the job site.
The mobility and easy installation of containerized solutions is ideal for mining applications, where job sites move on a regular basis. Unlike traditional or other modular buildings, shipping containers can be easily relocated with a crane or forklift – thanks to built-in logistics handling points.
By positioning modular buildings closer to work sites, employees spend less time traveling to and from labs, mobile restrooms, break rooms, or the site manager's office. ISO shipping containers can even be installed in underground mines, greatly reducing downtime associated with visiting facilities above ground.
No. 4: Container structures improve mining employee job satisfaction and productivity.
What looks like a shipping container on the outside, doesn't need to look like a shipping container on the inside. Your container's interior can be transformed into a comfortable, enjoyable place to work, relax, clean up, or live.
For example, the interior of your mobile container office can look just like a regular office with the addition of professional grade finishes on walls, ceilings, and floors. Industrial grade climate control systems and insulation can be installed to keep staff warm in cold climates and cool when it's hot outside.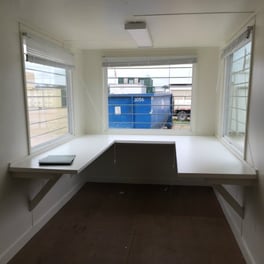 Shipping container offices and control rooms can be fitted with windows on three sides so the job foreman or site manager can survey the entire mining site. Other features include personnel doors, security systems, and restrooms.
Lockable storage containers – and combination office/storage containers – protect valuable equipment, tools, utility vehicles, documents, and more. Plus, due to their durable steel construction, containers are incredibly difficult to break into.
Containerized structures are ideal for keeping workers safe, comfortable, clean, and productive on remote job sites. They can be modified to serve as:
Mobile labs.
Control rooms.
Jobsite offices.
Mobile restrooms, comfort stations, and locker rooms.
Break rooms and recreation centers.
Workforce housing.
First aid stations.
Laundry facilities and more.
We take a deeper dive into popular applications for ISO containers in mining environments in this recent post.
No. 5: Eliminating hassles associated with one-size-fits-all solutions.
While Falcon's standard container products meet most of our clients' needs, our goal is to design solutions that fit your unique needs. Unlike other modular building or trailer providers, we don't try to "make things work" or push customers into a solution that doesn't align with their goals.
For example, a customer recently asked Falcon to design a custom conex mobile test lab for its sand mining operation. The customer needed to test samples through multiple stages of the project – and at various locations throughout the site.
The container was fitted with spill containment flooring, countertops, lighting, electrical, ventilation, and climate control features. This customer saved money and time utilizing an easily relocatable container solution over a permanent structure, while placement at each testing site ensured convenient access to the lab from the mine.
Ready to learn more about repurposed shipping container solutions for your mining operation?
We're here to help! Just give us a call at 877-704-0177 to discuss your options.