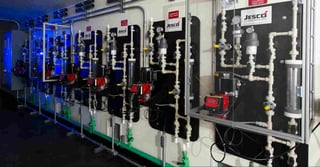 Original equipment manufacturers (OEMs) that utilize equipment enclosures to protect sensitive equipment and technology on industrial sites can benefit from replacing traditional brick and mortar or stick-built equipment housing with modified conex shipping containers.
Modular shipping container shelters have been designed to protect valuable equipment and technology for OEMs, such as:
So what benefits can OEMs realize by choosing containerized enclosures over brick and mortar or stick-built structures?

No. 1: Collaborative solutions that simplify the process.
Falcon Structures specializes in engineering and manufacturing custom containerized equipment shelters and enclosures that protect sensitive electronics and equipment from the elements. OEMs rely on us as a solutions partner that provides the most efficient and cost-effective product for their clients' unique applications.
Once our team understands the goals and specifications of the project – access points/pass-throughs, plumbing, electrical, climate control, ventilation, hazardous material handling, spill containment, etc. – we work closely with the OEM to devise the optimum solution.
No. 2: Inherent durability, security, and mobility that provide long-term cost savings.
Constructed of 16-gauge corten steel, ISO shipping containers are built to last (averaging a 25-year lifespan), require minimal maintenance, and withstand the elements, pests, and thieves. Containers were also designed to travel, so containerized enclosures can easily be moved from one job site to the next.

No. 3: Safe solutions that protect people, valuable equipment, and technology.
After nearly 15 years of manufacturing solutions for industrial applications, Falcon's proven engineering and manufacturing processes help ensure safe installation and operation on the job site. We engineer industrial equipment enclosures to be structurally sound and address other safety requirements and regulations specified by the OEM, such as hazardous materials, fire ordinances, and more.
No. 4: Rapid, guaranteed delivery that eliminates uncertainty.
Due to Falcon's large manufacturing capacity and time-tested processes, equipment enclosure projects can be turned around quickly and according to schedule. We typically deliver finished equipment housings in six to eight weeks, a lead-time which is unmatched in the marketplace.

No. 5: Controlled testing environment that reduces job site costs and downtime.
Once the OEM takes delivery of the containers, they can proceed with installation and testing of proprietary equipment and technology at the OEM's factory. This benefits both the OEM and end user, because factory engineering reduces overall project costs and labor associated with expensive field wiring and plumbing, equipment testing, project management, and real estate.
No. 6: Backup equipment and enclosures that reduce operational costs and downtime.
Over time, the end user may need to repair, upgrade, or replace equipment and enclosure units. Because the equipment is installed in the enclosure at the OEM's factory, a replacement unit can be waiting on standby, which means minimal interference to operations and little downtime.
No. 7: Hassle-free project management that saves time and reduces stress.
Once the project design is approved, Falcon manages all details associated with manufacturing, finishing out, and delivery of the container to the OEM. This dramatically reduces the hassle of and time spent managing multiple vendors.
To learn more about Falcon Structures' repurposed shipping container solutions for industrial equipment enclosures, give us a call at 877-698-1279 or email sales@falconstructures.com to connect with
our friendly sales team.
Already know what you're looking for?