Custom container-based structures are an important part of our business, but did you know that an overwhelming majority of our customers order a pre-designed product from our catalog? Similar to how companies like Honda, Ford, and Toyota build specific models of cars, we build most of our container-based structures according to the pre-designed specs of our product lines.
Offering our structures as products in a catalog is an enormous departure from traditional construction, but we anticipate that people will embrace the change as it gains momentum. After all, most of Falcon's customers find a product that fits their needs straight out of our catalog. Product lines offer the convenience and reliability customers have come to expect with just about every other modern consumer good, and it's about time the construction industry caught up.
Consider this - when you order a toaster, do you want to consult with the engineers who will design it and then wait for their manufacturing team to assemble it from scratch? Maybe if you're a three-star chef, but most people just need a product that reliably toasts a bagel. Our standard models are because in addition to a faster delivery, experience with the most common customer pain points informs the designs. These products have been built with years of field-testing in mind. Take our top three products as examples:
160 square-feet of theft-resistant and weather-proof space
Four windows and a personnel door
Single power connection for lights and climate control

2. The 20-foot Climate Controlled Storage
Also 160 square-feet of theft-resistant and weather-proof space
Options for over-head roll-up doors
Single power connection for lights and climate control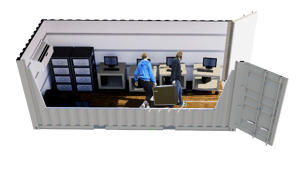 200 square-feet of office space and 120 square-feet of storage space in one unit
Windows and personnel door for office space, cargo door access for storage
Single power connection for lights and climate control

Notice the pattern? All three products serve businesses that face a conundrum. Travel trailers are built on manufacturing lines and offer an aerodynamic shape like cars, but don't provide the security and space of a building. Modular buildings—if they even attempt to be mobile—count on time-consuming site-prep and skirting. After hearing how customers struggled with similar pain points over and over again, it became clear that not only would they benefit from a shipping container structure, most of them would be well served by the same design.
Product lines for structures are still uncommon because the construction industry is rooted in a mindset that treats each project as a custom job, but change is coming with the growing popularity of off-site construction. When companies like Falcon Structures moved the construction process to a manufacturing plant, building product lines was a natural next step to improving efficiency and compressing lead times. Based on the positive feedback we receive on our product offerings, we anticipate structures for multi-family residences to office parks will come from a catalog.
Interested in browsing our standard product line?