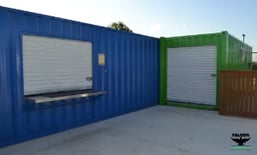 All businesses face challenges. For a growing or changing business, these challenges often revolve around space – or lack thereof. Storage space, work space, movable space, secure space - whatever the problem, whatever you need it for, shipping containers can be the solution.
Consider a shipping container to be a highly secure, portable blank slate - an empty, durable box which can be used for all manner of things. What's remarkable about a shipping container, is its ability to be transformed into whatever you need it for – storage, office space, living space or something uniquely your own.
Unlike traditional, brick and mortar buildings, a Conex box is modified off-site and delivered ready to install. It boasts a smaller 20-foot or 40-foot footprint than most permanent structures, is far more durable and can be completed more quickly. Not to mention the most obvious of all benefits – it's ability to be mobile. Whether you're moving it a foot, a mile or hundreds of miles, the shipping container is a versatile way to solve space problems within your business.
Problem #1: I'm out of storage space
A common issue with any business is that everyday items accumulate and occupy precious office space. Whether these items are accessed regularly or rarely, they must be kept. A Conex box can be placed on or offsite to accommodate these items while incorporating optional climate control, easy access personnel doors or organizational shelving.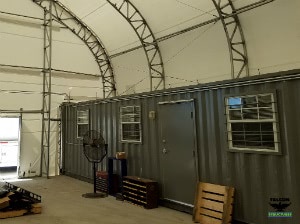 Problem #2: We've outgrown office space
A growing business requires the addition of more manpower, and any business will tell you cramped quarters are no fun for employees. A shipping container office placed on-site allows employees to remain close to the main office and continue to share other critical spaces. Offices placed in the field can include bathrooms or even kitchenettes.
Whether onsite or off, office layouts can be customized to the very specific needs of your business – private offices, conferencing rooms and more can be accommodated by the Falcon Office.
Problem #3: My warehouse requires secure workspace
A common problem with most warehouses is a lack of secure and climate controlled workspace. Often an onsite office area, free from dust and debris, is required for shop foreman, project managers or contractors. A shipping container is a great in-warehouse solution for busy production teams. Consider installing large windows to oversee warehouse production while keeping additional work equipment secure.
Problem #4: I can't get a permit for a permanent structure
While a need for functional business space may be clear, often city permits and requirements are more stringent for permanent structures. Permitting regulations fluctuate from location to location. However, the rules are often much more accommodating for mobile structures such as shipping containers. If a brick and mortar structure isn't possible on your property, consider a modular, containerized solution.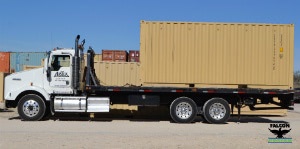 Problem #5: I need to move from place to place
If your business must move with you, there's no better structure to aid in the transition than a shipping container. By design, these containers are meant to move cargo. Whether it be across the ocean or across town, your precious business cargo can travel safely from place to place all inside your mobile structure. Frequent jobsite transitions, mobile retail stores, mobile restaurants and more can all be constructed using shipping containers - ensuring your business moves when you move.
Shipping containers can solve these and many other everyday business problems. If you'd like to learn more about how shipping containers can help your business, contact Falcon Structures at 877-704-0177 to speak with a knowledgeable sales representative today.
Already know what you're looking for?