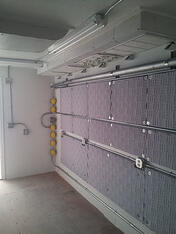 The domestic energy business is still booming, with improved fracking technology, extraction techniques, and detection of reserves helping companies to tap new stores of energy. Oil and gas companies frequently need to perform complex management and IT functions in remote areas, over a period of months or years, as extraction takes place. To meet this need for portable office space, energy companies now use shipping containers as modular control rooms. Here's how:
A Better Portable Office
Shipping containers can be designed for use as portable work spaces—allowing executives, managers, and office workers to monitor oil and gas fields at the site. The interior of these containers can be modified to provide the same level of comfort and professionalism found in a standing office, including:
Hardwood floors
Painted walls
Partitioned workspaces
Personnel doors
Windows
HVAC
Insulation
Extra electrical and data outlets
A high level of security, resistance to the elements, and climate control make it possible for shipping containers to protect delicate office equipment and preserve the shelf-life of physical files.
Portable IT Compatibility
Another way energy companies use shipping containers as control rooms is by using them to store essential IT equipment, such as servers. Because this equipment requires careful movement and a very controlled climate, advanced field solutions aren't easy to find. Luckily, shipping containers with extra modifications for IT compatibility can keep servers safe—maintaining the proper temperature and humidity levels, even in extreme climates.
Another consideration with portable IT buildings is that the equipment needs to remain secure. If desired, equipment can be partitioned off with an extra wall and a private personnel door. Shipping containers can also be modified to include an alarm system.
A Real-Life Portable IT Room
One of the best examples of how energy companies use shipping containers as control and server rooms is Phoenix Petrocorp, which fashioned a Falcon CoolBox into an IT control center. Phoenix Petrocorp needed to house their servers for transportation between different drilling sites. By using a shipping container, Phoenix Petrocorp was able to get the portability they needed for their IT team without sacrificing security.
Interested in learning more about whether shipping containers are right for your company's needs? Please contact Falcon Structures by clicking here or giving us a call at 877.704.0177.