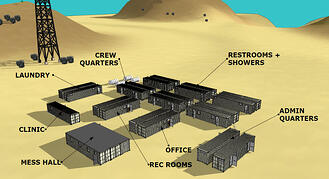 The use of temporary work camps in the mining of our US energy resources has been in existence since the start of the 20th century. These field camps are often called 'man camps,' and provide remote living accommodations to workers moving to temporary drilling and extraction sites.
Once constructed of canvas tents and wooden structures, these man camps have evolved to turnkey mobile villages with many portable buildings offering all the amenities needed to sustain and accommodate a large temporary work force.
At Falcon Structures we've been providing oil, gas and mining companies temporary container housing for their workforces since the inception of our company in 2003. As the oil and gas industry moves into the boom that has already started, we at Falcon have designed turnkey portable steel buildings that are cost effective and easy to set up and move to accommodate the needs of these industries.
Our turnkey and portable man camp is designed to accommodate the growing workforce in the Eagle Ford Shale drilling sites. This key development in the mining of our oil and natural gas resources has created an expansion of employment opportunities and the need for varied building structures to accommodate the workforce. The village can be comprised of a variety of structures that are modified from a repurposed shipping container.
A few of the structures that are being utilized include:
Dining Facilities
Laundry Facilities
Recreation Rooms
Multi-purpose Offices
Storage Units
Supporting a comfortable living environment is essential for any temporary workforce. The development of our Work Camp Village allows for a turnkey village to be developed using a secure, stable, wind and watertight structure. These repurposed shipping containers are the base structure comprising a complete village with all the accommodations of home.
For more information on this project, please refer to our press release from August 16, 2012 announcing this company development. If you have questions, you can always contact us at 877-704-0177 or sales@falconstructures.com.